Tempting Fate by K. K. Watson – Book Review
Tempting Fate by K. K. Watson – Book Review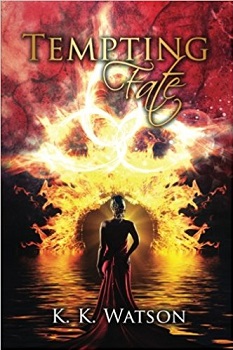 Tempting Fate


The Dark Races Book One
Author – K.K. Watson
Publisher – Createspace
Pages – 296
Release Date – 9th May 2015
ISBN-13 – 978-1536983784
Format – ebook, paperback
Reviewer – Julie
I received a free copy of this book
Post Contains Affiliate Links

My name is Elena Kelley. A few days ago, on my twenty-fifth birthday, a strange creature pulled me through an enchanted mirror, and onto a beach in the Fae Realm, where a Druid Sorcerer saved my life. Turns out, I'm the next in line to the Light Fae crown, and my fate is to unite the Dark Races.
Up until now, my entire life has been a lie. Oblivious to what I am, I've lived as a human, hidden from the supernatural world, cloaked by a Sorcerer's spell. That spell is gone now, my powers are intensifying, and my life is in danger. My new best friend is a Demon, and I'm meeting Vampires in bars.
Somehow, I have to come to terms with what I am, and learn to fight in order to save myself as well as the ones I love.

Tempting Fate, is a fantasy novel by American author K K Watson. The cover design is dramatic and will catch the attention of the casual reader with the regal figure standing centrally among the elements of air, earth, fire and water.
It is written in the first person and we see all the action through the eyes of Elena, a twenty-something who hitherto believed herself to be human. We are treated to a mix of sorcery, romance, telepathy, danger, intrigue, jealousy and loss. Watson blends the everyday with the outlandish giving us contrasts between the mundane and the macabre as our heroin moves almost effortlessly between the world she has known during her formative years and Annwyn, the planet where she will one day be queen.
I appreciated a bit of preamble and backstory before being thrust into the action as the author made me care about Elena before anything too dramatic happened to her. She is ably assisted throughout the book by her main foils; Aiden, Greg and Sean and it seems that supernatural males suffer from the same testosterone-filled competitiveness as their human counterparts.
Structurally, there is rather a lot of dialogue and is arguably a bit on the long side. With regard content, if you're offended by graphic material, there are a few sex scenes but these make up a very small percentage of the book. Whilst I'm not an advocate of too much detail, if it has relevance to the dynamics between the characters, as in this case, I'm fairly ambivalent.
This book has been nicely written with a strong ending so if you enjoy stories of demons, vampires and witches running amok, give 'Tempting Fate' a try. Having reviewed several novels in this genre recently, it is a competent example of this tried and tested formula.
There were many aspects I enjoyed but I kept hoping for an injection wow-factor that would elevate it above the crowd. This didn't quite happen for me but I note that this is the first in a series so I'm hopeful that the sequel will build on the momentum of this book and fulfil the potential that I feel this author undoubtedly possesses.
I award Tempting Fate three-and-a-half stars.
Book reviewed by Julie
Purchase Links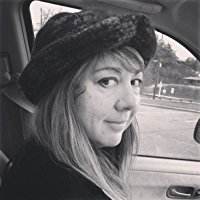 K.K. Watson grew up and currently resides in Winter Park, Florida. During the day, K. K. works a very technical position in the Environmental Sciences field.
As a creative outlet, she tried her hand at writing, and the result is the Dark Races series. In her spare time, K. K. loves to read chick-lit, edgy paranormal romances, and urban fantasy.
Like her reading, K. K. likes to write stories that are sexy, dark and suspenseful, with strong heroines and hot alpha-males.
Author Links