Poet of the Wrong Generation by Lonnie Ostrow – Book Review
Poet of the Wrong Generation by Lonnie Ostrow – Book Review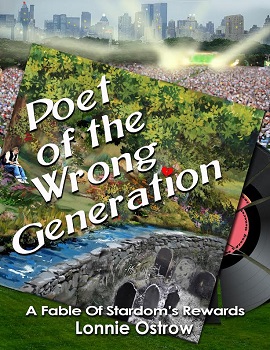 Poet of the Wrong Generation
Author – Lonnie Ostrow
Publisher – Harmony River Press
Pages – 470
Released – 10th November 2016
ISBN-13 – 978-0997404203
Format – ebook, paperback
Reviewer – Julie
I received a free copy of this book
Post contain affiliate links.
"It's not that I don't love you, and my tears are yet to dry. But you can't go back and forth forever and we've already said goodbye."
Through these words, a young poet unearths his musical soul while severing ties with the woman he loves after her stunning betrayal. Unknowingly, in writing this ballad of liberation, he will soon evolve as one of the fastest rising stars on the pop music landscape.
The year is 1991; the place, New York City. Here we meet Johnny Elias, a college student from Brooklyn with boundless adoration for two things in life: timeless popular music, and the heart of a sweet, complicated young woman who is clearly out of his league.
Megan Price not only is the object of Johnny's affection, but also the only daughter of New York's most powerful PR woman: the indomitable Katherine Price.
Projecting that her daughter's boyfriend will never live up to the family standard, Katherine cleverly perpetrates a series of duplicitous schemes to rid Johnny from her high-class world. But in her callous disregard, she inadvertently sets him on a determined course to his improbable musical destiny – while sending her own daughter spiralling down a path of devastation.
Review
Clearly no stranger to the literary world, American author Lonnie Ostrow gives us; 'Poet of the Wrong Generation'. The helpful prologue sets the framework for what is to come and we can make sense of the title from the beginning of the book, which is always a bonus. The cover design is colourful and eye-catching and will definitely attract the attention of the casual browser.
The chapters are evenly spaced and quite short which provide helpful natural breaks if reading time is limited to a few minutes. We join the story in August 1991 and the action is then spread over the following years. It is written in the third person, usually from Johnny's perspective but occasionally from that of one of his supporting cast. We get a smattering of backstory and know from early on that Johnny hasn't had the most fortunate of starts in life.
The author has clearly played to his own strengths when constructing the plot and I admire the innovative use of original song lyrics. Johnny has some strong foils, in particular college chums, Andy and Jacqui as well as his girlfriend, Megan. Ostrow also throws in a few famous names to add a bit of authenticity to the idea that Johnny is a new face among an illustrious contemporary crowd.
This is in essence a love story with the inevitable hurdles one expects from an engaging novel.
It is testimony to the skill of the author that the reader actually cares so much about Johnny and what happens to him. We watch in horror as the boy from Brooklyn and the girl from Fifth Avenue are wrenched apart by the machinations of Megan's manipulative mother.
Katherine Price is the epitome of the influential business woman and all round social snob and is by far the most colourful character in the book. It would be a truly delicious role to play, should this book ever make it to the silver screen. Her crass attempt to reunite her daughter with her first love once he becomes a successful artist is clumsy in the extreme and completely transparent as she tells Megan she is; 'allowing this parasite peasant to reclaim his cherished soul mate …'
Like many musical careers before and since, it only takes a few malicious rumours for the fickle world of glitter and glamour to turn its back on Johnny, leaving him at his lowest ebb. However, his multi-faceted personality dictates that he will not to be bowed by a downturn in circumstances as he sets about rebuilding his life, drawing on qualities of loyalty, altruism, determination and ultimately, generosity of spirit.
This is a sophisticated read which doesn't rely on padding or superfluous sex scenes to fill its pages. The pace never falters and if you enjoy a love story with soul-searching, self-discovery and a bit of heart-ache along the way, then this book is for you. I congratulate Lonnie Ostrow on a well-constructed story and award 'Poet of the Wrong Generation' five stars.
Reviewed by Julie
---
About the Author

Lonnie Ostrow has been an innovator, storyteller, promoter and celebrity-insider for more than two decades. With Poet Of The Wrong Generation, he combines all his unique experiences to bring you a novel of love & betrayal, music & fanfare, downfall & redemption — a fable of stardom's rewards, set in New York City during the 1990s.
Since 2001, Mr. Ostrow has been the publicity/marketing director & researcher for the iconic best-selling novelist Barbara T. Bradford. Previously he served as a PR executive, promoting an assortment of first-time celebrity authors.
From 1995 – 2001, Mr. Ostrow was widely credited with inventing the "living celebrity postal phenomenon." In all, he worked with more than 40 legendary personalities, creating major media events to celebrate their postal recognition by an assortment of foreign nations.
You can find out more about Lonnie by reading our interview with him – 'The Writing Life of: Lonnie Ostrow'





---