The Writing Life of: Lonnie Ostrow
Lonnie Ostrow
This week on 'The Writing Life of:' I am thrilled to be interviewing author Lonnie Ostrow. Lonnie will be sharing with us detail of his writing life, telling us all about his latest book 'Poet of the Wrong Generation', which was released on 10th November 2016, and answering a few fun questions too.
So without further ado I'll hand you over to Lonnie. Post contains affiliate links.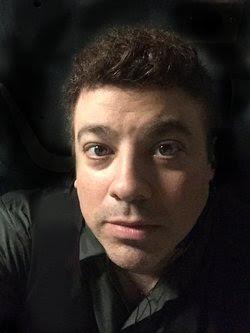 Lonnie Ostrow has been an innovator, storyteller, promoter and celebrity-insider for more than two decades. With Poet Of The Wrong Generation, he combines all his unique experiences to bring you a novel of love & betrayal, music & fanfare, downfall & redemption — a fable of stardom's rewards, set in New York City during the 1990s.
Since 2001, Mr. Ostrow has been the publicity/marketing director & researcher for the iconic best-selling novelist Barbara T. Bradford. Previously he served as a PR executive, promoting an assortment of first-time celebrity authors.
From 1995 – 2001, Mr. Ostrow was widely credited with inventing the "living celebrity postal phenomenon." In all, he worked with more than 40 legendary personalities, creating major media events to celebrate their postal recognition by an assortment of foreign nations.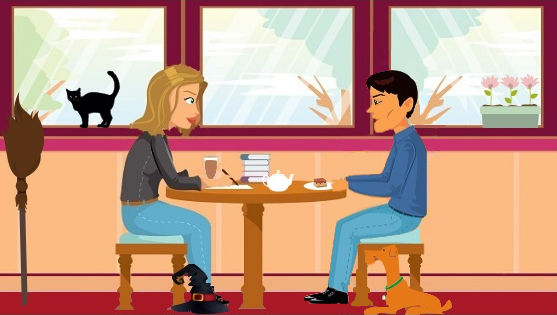 1) Do you remember the moment you decided that you would like to become a writer?
I was in the 4th grade, struggling with math and science. My class grades in those days were a collection of overall combined scores from all the various subjects. I always thought of myself as a good writer and storyteller. I elected to write an original short story and hand it in to my English teacher, hoping she would give me some extra credit.
The story was about some auto race and the various drivers of the different cars over a dangerous course. It may have been inspired by the Speed Racer cartoons. No matter, the teacher loved it! She graded it, handed it back with some encouraging note, then asked me if I had any more stories in me. I would compose 3 more for her over the next few weeks. Not my best work, but it certainly showed some potential.
On my report card, the teacher included the extra credit for the writing submissions and suggested in her comments that I should think about someday considering a career in writing. That's when the light-bulb went off over my head.
2) How did you go about following your dream?
In college, I wrote for the student newspaper. That first time seeing my bi-line was mind-blowing. Soon thereafter, I was writing everything I could get my name on. I got a gig writing articles for a Beatles fan magazine. Next, I got hired by Simon and Schuster audio division to write package copy on a handful of audio books. I did the same job at the Doubleday Book Club. Over the years, I wrote newspaper features, a ton of promotional copy and press releases, and even edited a handful of novels for some first-time authors.
In 2002, I took a job working with the legendary bestselling author, Barbara T. Bradford. I've been working at her side for 14 years, helping with the promotion and development of her novels. It was during my first year with Mrs. Bradford that I wrote Poet Of The Wrong Generation. For a variety of reasons it is only now being published.
3) Which authors inspire you?
Nick Hornby and Carl Hiaasen are two of my favorites. I love how they weave pop culture and music into their storytelling. Hiaasen had a novel called Basket Case, which featured a fictional pop song at the heart of the story. I'm also blown away by Douglas Adams and The Hitchhiker's Guide To The Galaxy. His writing is so clever, humorous and yet poetic as well.
Among lesser-known authors, I'm really amazed by Carol McKibben and her novel, Luke's Tale. This is one of the most heart-string tugging stories narrated by a family dog who is losing his eyesight and trying to keep his owners together during challenging times.
4) What is your working day like? Do you aim for a certain amount of pages/words per day?
I have a full-time job that I commute to every day in Manhattan (NYC) with the author, Barbara Bradford. My writing gets done late at night after the kids have been tucked in and my wife has drifted into dreamland. I don't set a writing quota, but I do make sure to put something on the page every day. Even when it's feeling forced, I can always salvage something from the paragraphs the next day when my mind is thinking more clearly.
Sundays are big for me because I can really get a couple of chapters written when I don't have any commitments or major errands to run. I also get a lot of editing done while commuting on the Long Island Railroad. If I can block out the noise, I'm able to mark up 15 – 20 pages with corrections in both directions. But if the train ever stops short…
5) Do you have any strange habits or rituals whilst writing?
I happen to love cherries when they are in season. If I'm writing in the summertime, I'll lock myself away in my home office with a bowl of cherries and a second bowl for the pits and stems on either side of my keyboard.
In the winter months, I buy frozen cherries and enjoy them while I write my chapters. But the frozen cherries don't have pits in them, so only one bowl is required. I also put on music while I work late at night. Usually I'll listen to a film score. Something entirely instrumental so that words from the music don't conflict with my writing.
6) Do you write Longhand, Typewriter, Computer?
I mostly work at a computer. The books are typed in Microsoft Word and saved on an external hard drive so that I can plug it in to resume my work wherever I happen to be. I do edit on paper occasionally. I'll always print out the chapter written the day before and mark it up by hand during my commute so that I can plug in the edits the next time I'm back to a computer.
7) Do you have a favourite character(s) in any of your books?
One of my favorite characters is Howard Greffen from Poet Of The Wrong Generation. Howard is a veteran musician, down on his luck and back in college after years of mild songwriting success and a great deal of turmoil. He meets the protagonist, Johnny Elias, and helps him to pursue his dream of becoming a recording artist, both through musical training and via his last remaining connections in the music industry.
Howard is all heart with no pretense. He's buttoned up about his past, but otherwise unselfish about trying to help others. He's also got a major secret in his life which Johnny stumbles upon and ultimately tries to help Howard resolve. One of the great things about Howard is how out-of-date he is with his clothing and appearance. Yet its Howard who holds the key to so much of Johnny's success and ultimate attempt at a career resurrection.
8) Do you plot your books completely beforehand, or do you let your imagination flow whilst in the writing process?
Poet Of The Wrong Generation was originally written as a screenplay back in 1992 for a college assignment. I had the basic story figured out ahead of writing it out. I also had the original songs composed from years earlier, which I wove into the project.
When I adapted it as a novel a decade later, I began with a handwritten story outline that helped me to keep all my ideas on paper and organized. Ultimately, I made quite a few modifications along the way. Storylines and new characters popped up and fit in nicely. But the outlined proved invaluable.
Concerning your latest book: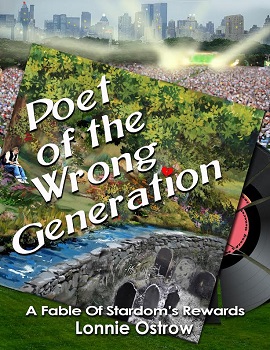 Poet of the Wrong Generation
Author – Lonnie Ostrow
Publisher – Harmony River Press
Pages – 455
Release Date – 10th November 2016
ISBN 13 – 978-0997404203
Format – ebook, paperback

"It's not that I don't love you, and my tears are yet to dry. But you can't go back and forth forever and we've already said goodbye."
Through these words, a young poet unearths his musical soul while severing ties with the woman he loves after her stunning betrayal. Unknowingly, in writing this ballad of liberation, he will soon evolve as one of the fastest rising stars on the pop music landscape.
The year is 1991; the place, New York City. Here we meet Johnny Elias, a college student from Brooklyn with boundless adoration for two things in life: timeless popular music, and the heart of a sweet, complicated young woman who is clearly out of his league.
Megan Price not only is the object of Johnny's affection, but also the only daughter of New York's most powerful PR woman: the indomitable Katherine Price.
Projecting that her daughter's boyfriend will never live up to the family standard, Katherine cleverly perpetrates a series of duplicitous schemes to rid Johnny from her high-class world. But in her callous disregard, she inadvertently sets him on a determined course to his improbable musical destiny – while sending her own daughter spiralling down a path of devastation.
9) How long did it take to get from the ideas stage, to the date of publication?
I could say fourteen years, or even twenty five years if you like. The original songs were written back in the late 80s and early 90s when I was a student at Adelphi University. Twelve of them were eventually woven into the story when I wrote the novel back in 2002. It took me four months to write the complete story, then another year to find a fabulous editor (Jeannette de Beauvoir) and make the necessary changes to perfect the writing.
I spent two years seeking a literary agent, eight months making further revisions for the agent… and then I hit a wall with her when she insisted that I turn a PG-rated novel into something hard core in order for her to sell it to a publisher as "adult fiction." I tried to meet her halfway, but ultimately I couldn't satisfy her, nor did I wish to compromise my personal values by muddying the book with requested graphic bedroom scenes and tales of drug abuse.
I shelved the project again for years (aside from periodic editing), but never gave up hope that I'd someday see it published. I'm immensely proud that I stuck with it until the right publishing opportunity came along.
10) Did you suffer from writer's block at any stage? How did you overcome it?
Writer's block was never an issue for me. I knew who my characters were and where the story was headed. Every night I could sit down at my desk and write that next scene, or chapter. Fierce determination helped me to get the story completed without any mental roadblocks.
If there was a day when I wasn't feeling energized, or inspired, I'd conduct a little research on some aspect of the time period (the early 1990s) when the story takes place. I can't recall a single day during the writing of the book that I didn't achieve something positive.
11) How did you come up with the name(s)for your lead character(s)?
Johnny Elias is my protagonist. I knew that he was destined for musical stardom and I needed a name that sounded like it could be both someone's real name and one that could work for a star without him having to change it later on.
The name Johnny is mythical in rock & roll. We have Johnny B Goode (the Chuck Berry song), Johnny Cash, Johnny Mathis, Johnny Rotten, John Lennon, John Bon Jovi and countless others. So Johnny it was.
Elias was a name that just seemed to flow nicely with Johnny. I spent maybe an hour weighing a handful of last names that I had shortlisted before settling on Elias.
12) Can you give us an insight into your main character (s), What makes them tick?
Johnny Elias begins the story as a college student from Brooklyn who grew up his whole life without any sense of permanence or stability. He lived in a series of foster homes. He's only recently found a part-time job and a place of his own. He's fallen head-over-heals for a young woman (Megan Price) who is clearly out of his league, but who he finds great happiness and ultimately inspiration when her betrayal becomes the subject of his very first song composition.
Devoid of a real family, Johnny finds comfort and stability in listening to the great singer-songwriters of the pop music era. He grows up worshiping Paul Simon, Bob Dylan, The Beatles, etc. But from a fan's perspective, stardom is the pinnacle of life… until he experiences celebrity from the other side.
13)If your book was made into a film, who would you love to play the lead character(s)?
For Johnny Elias, it would have to be someone with musical ability. An actor in his 20s who can sing, but also be convincing as the sensitive songwriter that he is. Perhaps someone like Chris Pine.
For Megan Price, I'm picturing a young, blonde haired actress. Emily Blunt might fit the bill.
And for the manipulative Catherine Price, Glenn Close would be my first choice.
14) Did you get anyone in particular to read your work before sending it to the publisher i.e family member, friend etc?
I had friends and family who read the initial manuscript when I'd first completed it back in 2002. The compliments were fantastic, but what I really needed was someone not afraid to be critical with me and enable me to really improve the dialog and the story flow.
Hiring an editor was one of the best decisions I ever made. I later got helpful feedback from my literary agent, and from some friends who are successful authors. I owe them all a measure of gratitude for helping me to perfect the work.
www.lonnieostrow.com/
Lonnie's Blog
Facebook
Instagram
Goodreads