Learning to Love by Sheryl Browne – Book Review
Learning to Love by Sheryl Browne – Book Review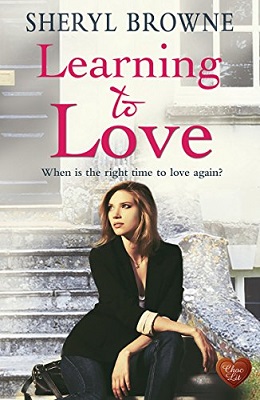 Learning to Love
Author – Sheryl Browne
Publisher – Choc Lot
Pages – 320
Released – 4th April 2017
ISBN-13 – 978-1781893524
Format – ebook, paperback
Reviewer – Stacey
I received a free copy of this book
Post contains affiliate links.
Sometimes help comes from the most unlikely places.
Living in a small village like Hibberton, it's expected that your neighbours help you in a time of need. But when Andrea Kelly's house burns down, taking all her worldly possessions with it, it's the distant and aloof Doctor David Adams – the person she would least expect – who opens his door not just to her, but to her three kids and slightly dotty elderly mother as well.
Andrea needs all the help she can get, dealing with the aftermath of the fire and the suspicious absence of her husband, Jonathan. But as she gets to know David and his troubled son, Jake, she begins to realise that maybe they need her help as much as she needs theirs…
Review
Andrea Kelly lives with her partner Jonathan and three children Ryan, Sophie and toddler Chloe. Plus, there is also her elderly mother and the family pet dog, Dougal.
Andrea and Jonathan have been going through a rough patch. Jonathan has become very secretive and off-hand with Andrea. When the two are supposedly meeting to have dinner together, Jonathan is nowhere to be seen. At the same time the family home burns down.
To the rescue is newcomer to the neighbourhood, Dr David Adams and his teenage son Jake. The pair are going through a difficult time after the death of their wife/mother. David invites Andrea and her family to stay with them until their home is fixed. But will Andrea's eyes be opened to how caring and attentive David is compared to Jonathan, and will David realise that it's okay to move on with his life?
Sheryl Browne has a writing style that grips you and hooks you to the pages until the very last word. Her characters are all very realistic and the situations plausible. It often felt like I was stood watching someone else's life play out in front of me, not just reading about it.
The characters are all worth investing your time in, okay maybe not Jonathan, but then there is always one!! The storyline is tender, and is one of love, loss and life, told in the most caring and mindful manner.
The title 'Learning to Love' fits the book perfectly, with both Andrea and David having to do just that. I gasped at each twist and turn that Ms. Browne so cleverly created for them.
The whole book from beginning to end was just a delight to read, it pulled at my heart-strings and had me eager to devour it in just two sittings.
Reviewed by Stacey
---
About the Author

Sheryl Browne brings you edgy, sexy contemporary fiction and psychological thrillers.
A member of the Crime Writers' Association, Romantic Novelists' Association and awarded a Red Ribbon by The Wishing Shelf Book Awards, Sheryl has several books published and two short stories in Birmingham City University anthologies, where she completed her MA in Creative Writing.
Recommended to the publisher by the WH Smith Travel fiction buyer, Sheryl's contemporary fiction comes to you from multi-award winning Choc Lit.
You can find out more about Sheryl by reading our interview with her – 'The Writing Life of: Sheryl Browne'






---