Chloe – Never Forget by Dan Laughey – Book Review
Chloe Never Forget by Dan Laughey – Book Review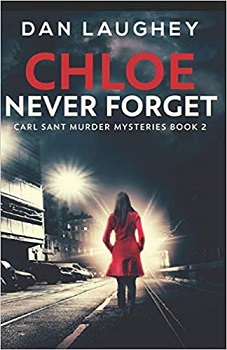 Chloe – Never Forget
Carl Sant Murder Mysteries Book Two
Author – Dan Laughey
Pages – 196
Released – 12th March 2019
ISBN-13 – 978-1090311634
Format – ebook, paperback
Review by – Marcia
Rating – 3.5 Stars
This post contains affiliate links.
An off-duty detective gunned down. A dead woman. A missing student. And now, a former policeman in search of his past. Dead or alive, something connects these people, and it's up to D.I. Carl Sant to discover what it is.
A series of cold-case inquiries leads D.I. Sant and his colleagues to investigate a botched assassination plot dating back to the 1980s. The deeper they dig, the more secrets are revealed, including shocking connections to the infamous National Front.
Meanwhile, the memory of former P.C. Tanner, survivor of the assassination, is recovering. Sant must find Tanner and figure out who is behind it all, before his superiors lose their rag and more lives are lost.
I recently reviewed book one in the Carl Sant Murder Mysteries, Chloe – Lost Girl and enjoyed it so much that I downloaded this book, book two immediately. Chloe – Never Forget begins exactly where book one ended, it was like it was just a continuation of the plot and not a new book.
In Chloe – Lost Girl there were a few loose ends not tied together by the end of the book, one of the reasons I was glad that book two was already available and why I needed to start it right away. This book aims to tie those links and complete the puzzle. This does not work as a standalone, so you need to read book one first or you won't understand what is happening.
This time Detective Carl Sant is still trying to connect the dots from his murder investigation of an off duty officer on a bus. He believes that there is a link between the shooting of the officer and a shooting in 1984. He needs to contact a retired PC – Officer Tanner who now goes under a different name. However, Tanner was injured and is still trying to regain his memory of the incident. As well as the shooting, Carl Sant is still searching for missing student Chloe Lee from book one.
If I am completely honest I actually preferred book one to book two. The first book I was always attached to and eager to read, nevertheless, I was still interested throughout this one especially to see how all the pieces of the plot fitted together.
There was plenty of action, surprises, and twists and turns throughout and whilst I enjoyed the ending I had already worked it out a few chapters earlier but my discover didn't ruin it for me, luckily.
If you like crime fiction/ police procedural's then both books are worth a read. Just make sure you read book one first. Author Dan Laughey does recap some events but it's always better to start at the beginning.
Book Reviewer – Marcia
---
Purchase online from:
---
About the Author

Dan Laughey is a lecturer at Leeds Beckett University where he teaches a course called 'Youth, Crime and Culture' among other things. He has written several books on the subject including Music and Youth Culture, based on his PhD in Sociology at Salford University. He also holds a BA in English from Manchester Metropolitan University and an MA in Communications Studies from the University of Leeds.
Dan was born in Otley and bred in Ilkley, West Yorkshire, a hop and a skip away from the Leeds setting of his Chloe novels. He now lives in nearby Guiseley.
His crime writing was purely academic to begin with. He's written about media violence and tackled the age-old concern about television and video games influencing patterns of antisocial behaviour in society. After years of research and theoretical scrutiny, he still hasn't cracked that particular nut.
He's also written about the role of CCTV and surveillance in today's Big Brother world, the sometimes fraught relationship between rap and juvenile crime, football hooliganism, and the sociocultural legacy of Britain's most notorious serial killer – the Yorkshire Ripper.
All in all, Dan's work has been translated into four languages: French, Hebrew, Korean and Turkish. He has lectured at international conferences and appeared on BBC Radio and ITV News in addition to providing expert commentary for The Guardian and The Daily Telegraph.


---
What did you think of Chloe – Never Forget? Share your thoughts in the comment section below!
---
The above links are affiliate links. I receive a very small percentage from each item you purchase via these link, which is at no extra cost to you. If you are thinking about purchasing the book, please think about using one of the links. All money received goes back into the blog and helps to keep it running. Thank you.
Like us on Facebook – Tweet us on Twitter – Pin us on Pinterest