Where the Light Gets in by Lucy Dillon – Book Review
Where the Light Gets in by Lucy Dillon – Book Review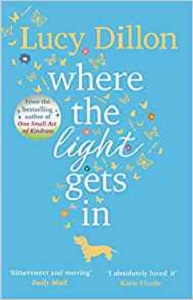 Where the Light Gets in
Author – Lucy Dillon
Publisher – Black Swan
Pages – 464
Released – 9th August 2018
ISBN-13 – 978-1784162092
Format – ebook, paperback, hardcover, audio
Review by – Selina
Rating – 4 Stars
I received a free copy of this book.
This post contains affiliate links.
Sometimes the cracks in your heart can be mended in unexpected ways . . .
If Lorna's learned one thing, it's that courage is something you paint on like red lipstick, even when you're panicking inside. And right now, with the keys to the town's gallery in her hand, Lorna feels about as courageous as the anxious little dachshund trembling beside her.
Sick of life in the big city, Lorna's come home to fulfil her dream of running a successful art gallery. Desperate for change, Lorna just wants a fresh start but can she find it in Longhampton? This is where her tight-knit family shattered into pieces. It's where her doubts about herself took root and where she first fell in love and had her heart broken. It's everything she was running away from.
But life and love can surprise you and all Lorna has to do to let the light in is open her heart . . .

We meet Lorna, who is thirty and having left her home of Longhampton when she was young, she has now returned to run the local art gallery. She lost both her parents and only has her sister Jess left. Not sure which direction to turn she decides to give the gallery a go and see where it will take her. As Lorna settles back in town, she runs into a few faces from the past.
Where the Light Gets in has a good array of supporting cast, with lots of action going on throughout. The story also includes a few dogs with Lorna now looking after a timid dachshund called Rudy after his owner Betty passed away and Lorna couldn't see him sent to the shelter home.
I especially loved watching Lorna's relationship with Joyce grow throughout. Joyce is an artist who likes to keep herself to herself but she sees something in Lorna and starts to trust her. Besides her Border Terrier Bernard had taken a liking to Lorna!
This is one of those heart-warming stories that tugs at your heartstrings. It is full of friendships, love, and grief. Lucy Dillon puts you very much in the centre of the action, and it will leave you with a tear in the eye. I Look forward to more from her in the future.
Book Reviewer – Selina
---
Purchase online from:
---
About the Author

Lucy Dillon was born in Cumbria, worked for a while in publishing in London, and now lives in the Wye Valley with her husband and their Border terrier. She has written eight novels set in the fictional Midlands town of Longhampton, which looks a bit like Hereford, although the inhabitants tend to sound rather more Northern than that.





---
What did you think of Where the Light Gets in? Share your thoughts in the comment section below!
---
The above links are affiliate links. I receive a very small percentage from each item you purchase via these link, which is at no extra cost to you. If you are thinking about purchasing the book, please think about using one of the links. All money received goes back into the blog and helps to keep it running. Thank you.