The Crazy Season by Jim Ody – Book Review
The Crazy Season by Jim Ody – Book Review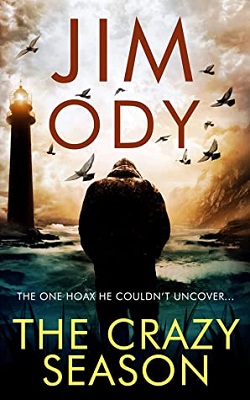 The Crazy Season
Joel Baxter Book One
Author – Jim Ody
Publisher – Question Mark Press
Pages – 308
Released – 4th May 2021
ISBN-13 – 979-8738300233
Format – ebook, paperback
Rating – 5 Stars
I received a free copy of this book.
This post contains affiliate links.


Synopsis
Joel Baxter is infamous for solving weird and bizarre cases that others avoid. So, when he receives an email from a teenage boy Tim saying his town is cursed, he cannot turn it down.
"…I will more than likely be dead when you read this. There is nothing I can do about it. It's the curse, and we've hit The Crazy Season." Every 20 years, there are a handful of unexplained teenage deaths and it's started again.
With the help of his straight-talking friend Melody, they set out to get to the bottom of the alleged curse. Everybody in Black Rock has secrets and nobody wants to speak.
The closer they get to truth the more Joel and Melody realise that their involvement is far from coincidental.
Investigative Journalist Joel Baxter doesn't investigate the normal stuff, he enjoys the weird and the wonderful. Think you have been abducted by aliens and returned, or possibly bitten by a vampire, or even possessed? then Joel is the person to find out the truth.
He's had a devastating twelve months, as a car crash saw his only young daughter killed and his wife left in a long-term coma. Since the accident, he hasn't been doing as many investigations but there is something about an email from a teenager who talks about a curse dubbed 'The Crazy Season' which has been happening every twenty years for decades, one which sees people committing suicide and that by the time Joel reads his email he most likely will be dead.
With the help of his friend's sister Melody the pair set off for the alleged cursed town of Black Rock, but they find it hard to get people to open up to them and the more they did the deeper they realise that them getting involved wasn't just by chance.
This is the first book by author Jim Ody that I have read, I'll be perfectly honest I hadn't actually heard of him until I found out about this new series. His writing is superb. He has a knack for inviting you into the world he has created and then not wanting to let you go, I can certainly say that the book had me hooked and I couldn't put it down.
Joel Baxter has had such a heart-wrenching time. To lose a child and then on top of that his wife is in a coma, where she has been since the crash and never knowing if she will wake, and if she does the heartbreak starts all over again as she doesn't know her child is dead.
Despite what he has been through and currently living through, Joel has warmth to him and a sense of humour. He hasn't lost that spark for investigating and I enjoyed his methods of deduction, even in a place as strange and secretive as Black Rock which felt a bit like one of those villages you see in movies where all the residents are possessed.
Melody is a wacky and fun character. She is rude, loud, gets easily excited, and has no off switch! She brought humour to the plot, she is also a whizz kid when it comes to modern life, where Joel is old school.
These two characters worked perfectly together and they bounced off one another. The cursed plot had me eagerly waiting to find out what was really at play as I don't believe in curses, but I was intrigued to see what was happening. There is a quote in the book in which Joel talks about curses and states 'The power of suggestions is a fascinating thing. It's essentially how cults work.' I totally agree, there is no such thing as a curse but if you make someone believe that there is you hold power over them.
If you love thrillers/mysteries then this is certainly a book to pick up. It has you second-guessing what is at play and there are a few twists thrown in as well. It is exciting and I now can't wait to continue with the series.
Purchase Online From:
---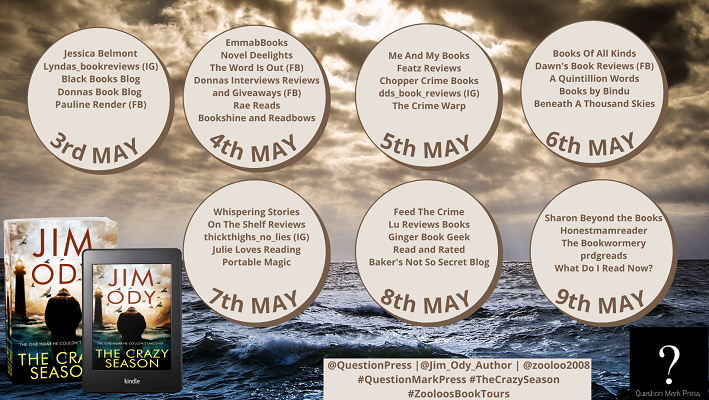 ---
What did you think of 'The Crazy Season'? Share your thoughts in the comment section below!
---
The above links are affiliate links. I receive a very small percentage from each item you purchase via these link, which is at no extra cost to you. If you are thinking about purchasing the book, please think about using one of the links. All money received goes back into the blog and helps to keep it running. Thank you.
Like us on Facebook – Tweet us on Twitter – Pin us on Pinterest – Join us on Instagram