Whisper of the Lotus by Gabrielle Yetter – Book Review
Whisper of the Lotus by Gabrielle Yetter – Book Review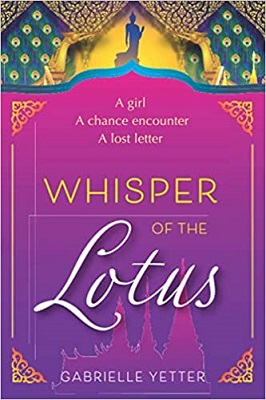 Whisper of the Lotus
A girl. A chance encounter. A lost letter.
Author – Garielle Yetter
Publisher – Meanderthals Publishing
Pages – 366
Release Date – 9th November 2020
Format – ebook, paperback
Rating – 4 Stars
I received a free copy of this book.
This post contains affiliate links.


Synopsis
A buzz sounded from inside Charlotte's handbag, so she stopped and fumbled for the mobile phone she'd switched on after landing. Surely nobody would be contacting her here. Her fingers curled around it and she flipped open the case and checked the message: Welcome to Cambodia, Charlotte. You have 57 days.
Sometimes you have to go a long way from home to come full circle back to discover what was right in front of you..
Charlotte's mundane, dead-end life lacked excitement. She never imagined that sitting on a plane to Cambodia, struggling with her fear of flying, would lead to her being befriended by Rashid, an old man whose tragic secret would take her on a mystery tour of discovery.
In a land of golden temples, orange-clad monks, and smiling people, Charlotte discovers nothing is as she'd expected. She also never imagined the journey would take her back to the night when her father walked out on the family.
And who was Rashid? Was he just a kindly old man, or was there something deeper sewn into the exquisite fabric of his life?
Charlotte is 24 and looking for a change in her life. Things have not been easy for her up until now. She has an alcoholic, overbearing mother whom she lives with and takes care of. Sadly, her father left when she was a teenager. Her job and romantic life are not great either.
She takes a big scary leap and is on her way to visit her childhood friend Roxy in Cambodia! On her flight is an elderly man who tries to ease her discomfort during air turbulence.
And so our journey begins. For the next 300+ pages we are taken around Phnom Penh. This is an inspirational story of friendship, family, finding oneself, letting go and moving forward.
"One doesn't discover new lands without consenting to lose sight of the shore for a very long time." Oh my, loved this!! I needed this advice so much.
I found myself searching the internet for rental spaces and flights to various third world countries. I want to experience what Roxy, Samnang, Charlotte, and SomOn. The beauty and harsh realities of far away countries. Thank you, Gabrielle Yetter, for your honest and detailed story. It left me wanting to know more and explore first hand.
There are a few sad elements to this story. They are necessary: Girlie bars, murders and the horrible events of Khmer Rouge, a brutal regime that ruled Cambodia. Don't let these heavy subjects scare you away from reading this title. I was so glad I did.
You can also read a guest post by Ms. Yetter on this blog: Cambodian Anti-Trafficking Organization and Me. The author covered many topics in this book. I wish it were broken down into a few storylines and separate novels. Ms. Yetter, please write more!!
Purchase Online From:
---
What did you think of 'Whisper of the Lotus'? Share your thoughts in the comment section below!
---
The above links are affiliate links. I receive a very small percentage from each item you purchase via these link, which is at no extra cost to you. If you are thinking about purchasing the book, please think about using one of the links. All money received goes back into the blog and helps to keep it running. Thank you.
Like us on Facebook – Tweet us on Twitter – Pin us on Pinterest – Join us on Instagram