Testament by Mark P. Dunn – Book Review
Testament by Mark P. Dunn – Book Review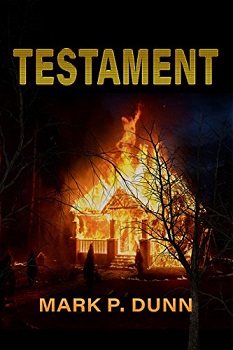 Testament
Author – Mark P. Dunn
Publisher – World Castle Pub
Pages – 240
Released – 6th January 2018
ISBN-13 – 978-1629898568
Format – ebook, paperback, hardcover
Reviewer – Kerstin
Rating – 4 Stars
I received a free copy of this book
Post contains affiliate links.
On the surface, it looks like Paul Callahan has it all. The family, the house, the job. But nothing is ever as perfect as it seems, and when a college friend contacts Paul out of the blue, he finds himself reliving his first year of college, when everything went so right, and then so very wrong.
Testament is a story of friendship and love and of the terrible evil people are capable of doing to one another. It is the story of a man doing his best to move forward, but struggling with an emotional anchor latched firmly in the past. But more than anything, it is a story about redemption and the unfathomable workings of the human heart.

Peter Callahan lives a normal and happy life, or so it seems.  But after the visit of an old college friend he finds himself thinking about their time in college. Peter is re-living his time with his friends and the catastrophe which hangs over his head like a grey cloud since then.  He is worried about his visitor and is trying to find him to make sure he is well. On his journey he is going through his life in college and lets the reader take a part. For me, it sometimes felt like driving with him on the passenger seat.
The book is telling us a story about friendship, families and love. And it shows perfectly how quickly things can move from a good time right into a catastrophe.  Peter Callahan has been trying to live a normal life ever since, but his past has finally caught up with him.
The story started out quite slow. It took me some time to work my way into the main character and his life. But, it turned out to be such a good read. The plot is very enthralling and the author took his time revealing what the actually traumatic event Peter had endured happened to be.  Therefore, it was so gripping. Moreover, the author has the ability to write in a way you can totally visualise the surroundings of Peter and the terrible event of the past.
I can fully recommend this book. It has a likeable character, who's struggles seem real and it has a well thought plot which is entertaining right until the last line.
Reviewed by Kerstin
---
Purchase online from:
---
About the Author

Mark Dunn is the author of three novels: A Girl in Mind, The Last Night, and Testament. He is from Swarthmore, Pennsylvania, but has lived most of his adult life in Ohio, Maine, and North Carolina. He is married to the photographer Piper Warlick and teaches English at a small private school outside of Charlotte.


---