Remember the Butterfly by Rebecca L Marsh – Book Review
Remember the Butterfly by Rebecca L Marsh – Book Review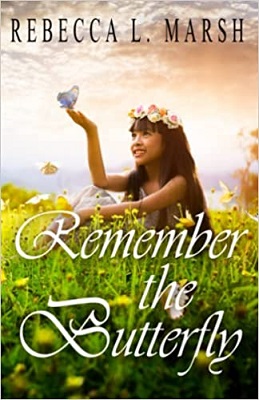 Remember the Butterfly
Author – Rebecca L Marsh
Publisher – Purple Angel Press
Release Date – 10th January 2022
Pages – 339
ISBN 13 – 978-1949498073
Format – ebook, paperback
Star Rating – 4.5
I received a free copy of this book.
This post contains affiliate links.

Synopsis
Would you give up what you treasured most for the sake of someone you loved?
Something unexpected changes the course of Jillian's life.
After witnessing her sister's murder, she's been tormented by survivor's guilt. Her desperate longing for a child compounds her grief, while endless fertility treatments weigh down her soul.
Just when hope seems beyond her grasp, her dream of motherhood comes true. All Jillian's pain is washed away and joy fills her heart.
But when someone shows up threatening to take it all away, Jillian must choose between holding on to her newfound happiness or giving it all up for the sake of someone she loves.
'Remember the Butterfly' is the latest novel from the pen of American-based best-selling author, Rebecca L Marsh. We meet two women who each tell us their individual stories. Both have known love and heartache. Their lives are very different but tragic circumstances bring them into sync for a brief time.
Firstly, we meet Jillian who has a loving family but two things weigh heavily on her; the loss of her sister and her inability to conceive. Her life is a rollercoaster of emotions as she copes with hope and disappointment in equal measure. In addition, Jillian has underlying feelings of guilt surrounding her sister's death.
In the second half of the book, we meet Keeley and now we see things from the first-person perspective rather than the third. Keeley's world is destabilised at a young age and she has to adjust to a new uncomfortable reality. As an adult in her early twenties, her choices lead to her having to make an agonising life-changing decision.
The events in the lives of Jillian and Keeley lead them on a collision course whereby fulfilment for one, means heartbreak for the other.
At the beginning, the story concentrates on the minutiae of life and if I hadn't been asked for a review, I might have decided it wasn't for me. There are a large number of family members in Jillian's life and I struggled to see the relevance of all of them to the plot.
Structurally, I found some imbalance when mixing the mundane with the meaningful. A lot of paragraph space was taken up with shoe fittings, shop inventories and family meals, leaving some huge life events, by comparison, to feel rushed. However, the author then introduces some very sensitive issues so if you too are tempted to put it down, I recommend sticking with it.
There are several themes running through the book but by far the strongest is love and the sacrifices that are made because of it. I found it a little contrived in places but defy anyone to read it without shedding a tear. I'm sure some readers will identify with the main characters and will be able to empathise with their feelings and life choices.
Once I got into the story, I found it compelling and the poignant messages the author intended to convey are handled well. I award four-and-a-half stars.
---
Purchase Online:
Rebecca L Marsh

Rebecca L. Marsh is an award winning author of women's fiction and a member of the Paulding County Writer's Guild. She grew up in the mountains of Western North Carolina and now lives in Dallas, Georgia with her husband and daughter.
When not writing, she enjoys spending time with her family (cats and dog included), watching movies, and reading a good book. Rebecca occasionally makes home-made candy and works on her scrapbooks (she is woefully behind).
She has published three novels to date: When the Storm Ends (winner of a Chill With A Book Premier Reader's Award), The Rift Between Us, and Where Hope is Found.
Author Links:
---
The above links are affiliate links. I receive a very small percentage from each item you purchase via these links, which is at no extra cost to you. If you are thinking about purchasing the book, please think about using one of the links. All money received goes back into the blog and helps to keep it running. Thank you.