The Murder Pit by Mick Finlay – Book Review
The Murder Pit by Mick Finlay – Book Review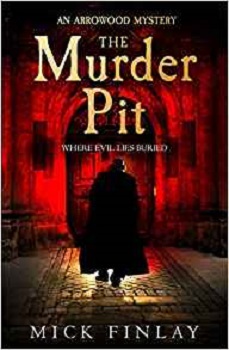 The Murder Pit
An Arrowood Mystery Book Two
Author – Mick Finlay
Publisher – HQ
Pages – 448
Released – 10th January 2019
ISBN-13 – 978-0008214791
Format – ebook, paperback
Reviewer – Stacey
Rating – 5 Stars
I received a free copy of this book.
This post contains affiliate links.
London Society takes their problems to Sherlock Holmes. Everyone else goes to Arrowood.
1896: Sherlock Holmes has once again hit the headlines, solving mysteries for the cream of London society. But among the workhouses and pudding shops of the city, private detective William Arrowood is presented with far grittier, more violent, and considerably less well-paid cases.
Arrowood is in no doubt who is the better detective, and when Mr and Mrs Barclay engage him to trace their estranged daughter Birdie, he's sure it won't be long before he and his assistant Barnett have tracked her down.
But this seemingly simple missing person case soon turns into a murder investigation. Far from the comfort of Baker Street, Arrowood's London is a city of unrelenting cruelty, where evil is waiting to be uncovered . . .

William Arrowood (the guvnor) and Norman Barnett his sidekick, and the narrator of the book are the poor people's private detectives in the late 1800s. They take on the cases that Sherlock Holmes and Dr. Watson wouldn't even think about investigating.
In The Murder Pit, Arrowood has been asked by a Mr. and Mrs. Barclay to track down their daughter Birdie and bring her home (or at least talk to her and make sure she is okay). Birdie is apparently a 'simple-minded' young girl, as her family call her, and is easily led astray. Since she married farmer Walter Ockwell she hasn't been seen or heard from and her parents, though they have tried, haven't had any success in finding her and talking to her.
The Ockwell family are fiercely private people and won't let anyone near Birdie. The family seem to be ruled by Walter's sister and are very well know in their local area.
Arrowood and Barnett take a look into the Ockwell's and find out some disturbing information which they go to the local police officer with, though he refuses to help and warns Arrowood to stay away. There's also the issue of someone who helped them with their enquires going missing too.
Arrowood's not easily beaten though and won't give up until he's completed what's he's been paid for.
I'm a huge Sherlock Holmes fan so when I saw this book I knew I had to read it. At first, I didn't realise it was the second in a series, but it is fine to read as a stand-alone so not reading the first didn't hinder me in any way.
Arrowood works in the same field as Sherlock Holmes but his methods are completely different. He studies people and their actions and emotions rather than rely on the clues to lead him to the culprit or cause. He also gets paid a lot less than Sherlock's and takes on poor peoples cases. He also seems to detest Sherlock.
The book is narrated by Barnett, Arrowood's assistant. Author Mick Finlay has certainly done his research into the Victorian era and also the plight of disabled people back in those days. This comes across strong and there is no doubt when turning the pages which era in history you are within.
I favour the chase in mystery/detective books far more than the outcome and this book didn't disappoint, (neither did the finale). I enjoyed it immensely and if you like Sherlock you'll love this series.
Reviewed by Stacey
---
Purchase online from:
---
About the Author

Mick Finlay was born in Glasgow and grew up in Canada and England. He now divides his time between Brighton and Cambridge. He teaches in a Psychology Department, and has published social psychological research on political violence, persuasion, and verbal and non-verbal behaviour. Before becoming an academic he worked as a tent hand in a travelling circus, a butcher's boy, a hotel porter, and in various psychology-related roles in the NHS and social services. He reads widely in history, psychology, and enjoys a variety of fiction genres (including crime, of course!)
Mick used his background in psychology to write 'Arrowood', a historical crime fiction novel set in Victorian London. It is published HQ (Harper Collins) in the UK and by Mira in the USA. Translations will be coming out over the next two years by Harper Collins in a number of other countries (e.g. Japan, Brazil, Germany, France, Spain, Italy, Poland, Holland, Finland, Norway and Sweden). The sequel, 'The Murder Pit', is out January 2019.




---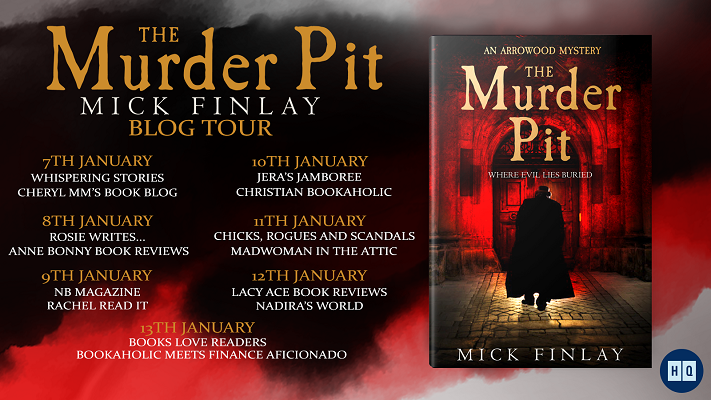 The above links are affiliate links. I receive a very small percentage from each item you purchase via these link, which is at no extra cost to you. If you are thinking about purchasing the book, please think about using one of the links. All money received goes back into the blog and helps to keep it running. Thank you.