The Good Son by You-jeong Jeong – Book Review
The Good Son by You-jeong Jeong – Book Review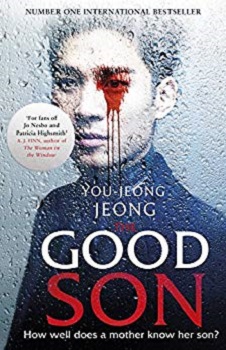 The Good Son
Author – You-jeong Jeong
Publisher – Little, Brown
Pages – 320
Released – 3rd May 2018
ISBN-13 – 978-1408711231
Format – ebook, paperback
Reviewer – Cara
Rating – 5 Stars
I received a free copy of this book.
This post contains affiliate links.
YOU WAKE UP COVERED IN BLOOD
THERE'S A BODY DOWNSTAIRS
YOUR MOTHER'S BODY
YOU DIDN'T DO IT. DID YOU?
HOW COULD YOU, YOU'VE ALWAYS BEEN THE GOOD SON
When Yu-jin wakes up covered in blood, and finds the body of his mother downstairs, he decides to hide the evidence and pursue the killer himself.
Then young women start disappearing in his South Korean town. Who is he hunting? And why does the answer take him back to his brother and father who lost their lives many years ago.
The Good Son is inspired by a true story.
Yu-Jin has a doting mother and a brother who loves him. Other than a few health issues he believes he has led a relatively normal life, until one morning when he wakes up covered in blood and finds a dead body downstairs, his mother's. Determined to find out who did this, how and why, Yu-Jin begins an investigation of his own which leads to some very unexpected results.
The good son is a book that will keep you hooked throughout with many twists and turns along the way. You go through a wave of emotions and your feelings for the characters change with every chapter.
Throughout the story the character development increases giving you a clear and very believable idea of what they are like; you'll feel pity, sadness, anger and disbelief at what they are/can be capable of.
I very much enjoyed the story, the way in which it was written made it clear and simple to understand. I liked the different emotions I felt whilst reading and the twists kept the story interesting. I also found the ending, although quite sad, surprisingly satisfying.
I really did not want this book to end.
Reviewed by Cara
---
Purchase online from:
---
About the Author

You-jeong Jeong was born in Hampyeong, South Korea. She initially trained and worked as a nurse. She is now South Korea's leading writer of psychological crime and thriller fiction and is often compared to Stephen King and Raymond Chandler.
You-jeong is the author of four novels including Seven Years of Darkness, which was named one of the top ten crime novels of 2015 by the German newspaper Die Zeit. Her work has been translated into Chinese, Japanese, French, German, Thai and Vietnamese. The Good Son is the first of her books to be translated into English.

---
The above links are affiliate links. I receive a very small percentage from each item you purchase via these link, which is at no extra cost to you. If you are thinking about purchasing the book, please think about using one of the links. All money received goes back into the blog and helps to keep it running. Thank you.
Blog posts straight to email via Bloglovin – Like us on Facebook – Follow us on Twitter