She Was the Quiet One by Michele Campbell – Book Review
She Was the Quiet One by Michele Campbell – Book Review
She Was the Quiet One
Author – Michele Campbell
Publisher – HQ
Pages – 448
Released – 10th January 2019
ISBN-13 – 978-0008301811
Format – ebook, paperback, Audio
Reviewer – Stacey
Rating – 4 Stars
I received a free copy of this book.
This post contains affiliate links.
Because murderers are never who you expect…
She was the quiet one… but is she guilty?
For twin sisters Rose and Bel, enrolling at the prestigious new boarding school should have been a fresh start. But with its sinister rituals and traditions, Odell soon brings out a deadly rivalry between the sisters.
For Sarah and husband Heath, the chance to teach at Odell seems like the best thing that ever happened to their small family – a chance to rise through the ranks and put the past behind them.
Until one dark night ends in murder.
But who's guilty and who's telling the truth? And who's been in on it all along..?

Teenage Twins Bel and Rose Enright have had a tough time of late. Their mother has recently died and they have been forced to move across the country to live with their Grandmother who they haven't seen since their dad died when they were little.
Their Grandmother is the sort of woman who not only has a lot of money but a reputation to uphold and so sends the girls off to the prestigious boarding school that has seen many members of her family attend – Odell.
The school though doesn't have the best reputation of late after a previous teacher let the pupils do what they wanted, so to combat the problem two new teachers have been brought in to sort the place out – Sarah and Heath Donovon.
Whilst Bel is popular and beautiful she's not exactly academic and doesn't want to attend Odell. Rose is all for getting a better education and doing well as she is very intelligent. The girls are complete opposites and soon the cracks appear in their relationship. Bel gets in with the wrong crowd and Rose wants to forget she has a sister. Surely though their squabbling wouldn't lead to one murdering the other. But which girl is dead and is the other really the killer?
She was the Quiet one is a psychological thriller that really plays with your mind. From the beginning, you know that one of the twins has been killed and the other is accused of her murder, however, it will take all your sleuthing to work out which one is dead and why.
Given the title you would expect to be able to work it out but they are both quiet in their own way so that wasn't really that handy in the end. At times I thought I knew and then it was like the author had thrown in a few red herrings just to lead me down the wrong path.
The book opens with one of the twins held in the infirmary accuse of murder and then jumps back in time to the September before and the death of the girl's mother. Throughout the book, you get to see both sides of the girl's stories as well as sections from the police investigation into the murder and chapters told from the POV of both Sarah and Heath.
She Was the Quiet One has plenty of subplots that weave their way into the main and the characters were all fascinating to read about. As the plot unfolded towards the big reveal I was a little shocked and quite relieved to see I hadn't worked everything out.
Reviewed by Stacey
---
Purchase online from:
---
About the Author

Michele Campbell is a graduate of Harvard College and Stanford Law School and a former federal prosecutor in New York City who specialized in international narcotics and gang cases.
A while back, she said goodbye to her big-city legal career and moved with her husband and two children to an idyllic New England college town a lot like Belle River in IT'S ALWAYS THE HUSBAND. Since then, she has spent her time teaching criminal and constitutional law and writing novels.
She's had many close female friends, a few frenemies, and only one husband, who – to the best of her knowledge – has never tried to kill her.





---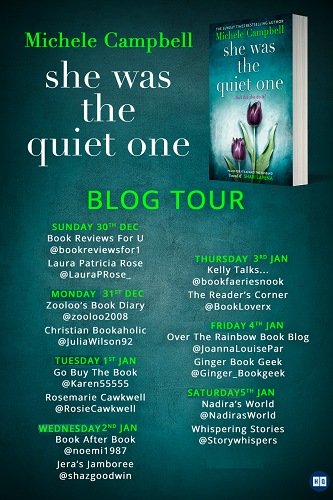 The above links are affiliate links. I receive a very small percentage from each item you purchase via these link, which is at no extra cost to you. If you are thinking about purchasing the book, please think about using one of the links. All money received goes back into the blog and helps to keep it running. Thank you.