Layers by Zuzanne Belec – Book Review
Layers by Zuzanne Belec – Book Review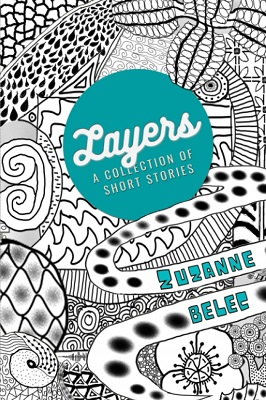 Layers
Author – Zuzanne Belec
Publisher – Draft2Digital
Pages – 116
Released – 12th November 2020
ISBN-13 – 978-1393916499
Format – ebook, paperback
Rating – 4 Stars
I received a free copy of this book.
This post contains affiliate links.


Synopsis
Eight short stories on the power of the human spirit. Layers is a debut collection of imaginative short stories celebrating life and the human spirit despite the ever-present spectre of melancholy in our lives today. With their distinctive blend of wit and humour, they light up any underlying darkness. From the Americas to India, from Africa to Europe, and through a range of genres, voices and styles, layers are unraveled, revealing the textures and contrasts of old and new in the environments and cultures of today's fast-paced world. With vivid descriptions, we are drawn into enchanting worlds with characters that leap off the page, leaving the reader lingering long after the pages have been read.
In The Christmas Charge: Instead of enjoying their Christmas preparing eggnog cream pie and sipping sherry by the fireside, three batty grannies go on an African safari. At this stage of wisdom in their lives, nothing can go wrong. Right?
In Paths Taken: When her grandmother 'kills' a man on a busy town square, Hecate is forced to face her worst fears and use her own unsettling powers to help her. But where will these new paths take her?
In White Noise: All Earl needs to do is hand his work over to his successor. But is it that easy to let go? And where does one hide from one's inner noise when things go wrong?
In The Old Man and the Donkey: Deep in northern Portugal, an old man and his donkey go about their lonely routine. When an unexpected visitor shows up, everyone is given a new chance of happiness. But have they all been stubbornly avoiding it for too long?
In The Arctic Haze: Since he was little, bad luck has stuck to George's soles like clingy dog mess. Some of us are luckier. Or are we really?
In Penny's Purple Robot: A loving father exceeds himself to make his daughter happy after her mother passes away. But can he force himself to face a brutal truth?
In Mothers: Deep in Africa: A desperate mother accepts her own fate, but refuses to face an even harsher reality. Mothers will do anything for their young. And things may not be as they seem.
In Yeehaw: Running from their regular lives, Sam and Patsy end up in an artificial town – Yeehaw Theme Park. Will they find their true selves in this synthetic world?
If you like a minimalist and dark, yet humorous look at the contrasts we face in the world today, you will enjoy this collection of mixed-genre stories. Buy now to enter into these worlds!
Layers is a short book by author Zuzanne Belec that contains eight different and unique stories all on the power of the human spirit. The stories will take you out of your comfort zone and via Ms. Belec's imagination, you will be transported to various places around the world, including the Arctic, Africa, and Portugal.
As a reader, I tend to have a love/hate relationship with short story books. I often find that there are a few stories thrown in which don't feel the same or have the same pull as the others, ones that let the collection down. I can honestly say that none didn't fit in this collection, they could all hold their own. Yes, some did feel a little too short, whilst others felt a little too long, but all were worthy of my time.
Some of the stories were true to life, others were more fantasy/magical. I liked the mix. I think my overall favourites have to be 'In White Noise' and the opening story 'In The Christmas Charge' featuring three old ladies as they go on an African safari over Christmas. Their bickering and banter had me giggling.
This is a book you can sit and read in one go, one story after the next, or a book you can pick up and read a story now and again when the mood takes you. You don't even need to read them in order as they are all individual.
What you will find is that these eight stories tell you something about humanity, loss, love, life, family, forgiveness, etc. You can tell how much time, effort, and thought has gone into each one. They speak to you and get inside your head. This is an amazing, artistic, entertaining, and quirky book that is certainly worth picking up (especially at the current low price of £3.33* for the paperback) *Correct as of July 2021.
Purchase Online From:
---
What did you think of 'Layers'? Share your thoughts in the comment section below!
---
The above links are affiliate links. I receive a very small percentage from each item you purchase via these link, which is at no extra cost to you. If you are thinking about purchasing the book, please think about using one of the links. All money received goes back into the blog and helps to keep it running. Thank you.
Like us on Facebook – Tweet us on Twitter – Pin us on Pinterest – Join us on Instagram