The Beginner's Guide to Loneliness by Laura Bambrey – Book Review
The Beginner's Guide to Loneliness by Laura Bambrey – Book Review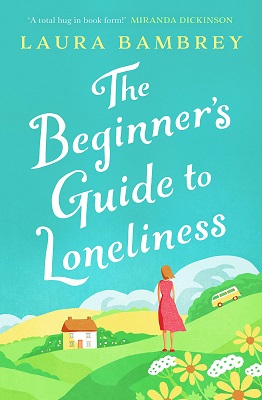 The Beginner's Guide to Loneliness
Author – Laura Bambrey
Publisher – Simon & Schuster UK
Pages – 416
Released – 22nd July 2021
ISBN-13 – 978-1398500532
Format – ebook, paperback
Rating – 5 Stars
I received a free copy of this book.
This post contains affiliate links.


Synopsis
Tori Williamson is alone. After a tragic event left her isolated from her loved ones, she's been struggling to find her way back to, well – herself. That's why she set up her blog, The Beginner's Guide to Loneliness, as a way of – anonymously – connecting with the outside world and reaching others who just need a little help sometimes.
When she's offered a free spot on a wellbeing retreat in exchange for a review on her blog, Tori is anxious about opening herself up to new surroundings. But after her three closest friends – who she talks to online but has never actually met – convince her it'll do her some good, she reluctantly agrees and heads off for three weeks in the wild (well, a farm in Wales).
From the moment she arrives, Tori is sceptical and quickly finds herself drawn to fellow sceptic Than, the retreat's dark and mysterious latecomer. But as the beauty of The Farm slowly comes to light she realizes that opening herself up might not be the worst thing. And sharing a yurt with fellow retreater Bay definitely isn't. Will the retreat be able to fix Tori? Or will she finally learn that being lonely doesn't mean she's broken . . .
Welcome to The Beginner's Guide to Loneliness! Where you can learn to move mountains by picking up the smallest of stones…
Set in a Welsh wellbeing retreat, anonymous loneliness blogger Victoria (Tori) Williamson is there to review the retreat under the disguise of a reviewer for the blog.
Told from Tori's point of view we get to experience the retreat with her. I can honestly say I loved every minute of this book. The retreat isn't something I personally would like to take part in, though the stunning location of the Welsh countryside and a huge yurt sounded lovely, even the open water swimming which Tori is petrified of sounded fun, although you can forget the acorn coffee!
Each chapter opens with a quote from Tori about loneliness and with her wisdom on the subject and the courses at the retreat this book would be perfect for anyone who does feel lonely as it has some great advice and is like a self-help book encased within a spectacular fictional story.
The Beginner's Guide to Loneliness is an uplifting story. It makes you feel good and has quite a few comical moments. It is also sincere, heartfelt, and touching. You find yourself hoping that Tori manages to get some inner peace from her past, including the death of her mother in a serious car accident that has left her numb and unable to move forward with her own life.
This is a stunningly, beautiful debut novel from author Laura Bambrey which I took my time over as I wanted to saviour every chapter and stay with the incredible characters including Dennis the Dog for as long as possible.
Purchase Online From:
---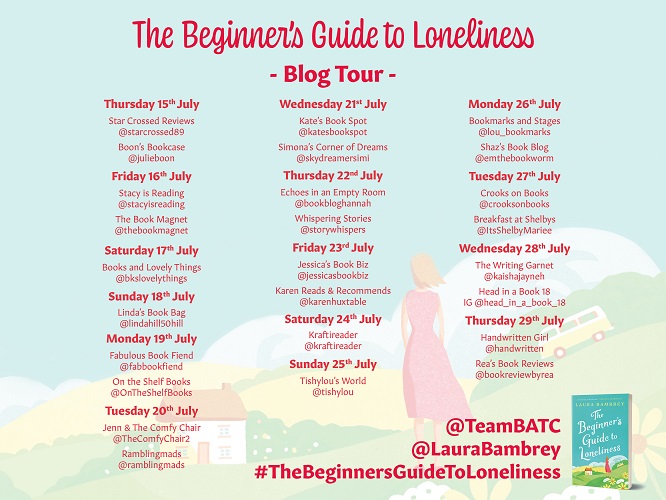 ---
What did you think of 'The Beginner's Guide to Loneliness'? Share your thoughts in the comment section below!
---
The above links are affiliate links. I receive a very small percentage from each item you purchase via these link, which is at no extra cost to you. If you are thinking about purchasing the book, please think about using one of the links. All money received goes back into the blog and helps to keep it running. Thank you.
Like us on Facebook – Tweet us on Twitter – Pin us on Pinterest – Join us on Instagram