We Were Wolves by Jason Cockcroft – Book Review
We Were Wolves by Jason Cockcroft – Book Review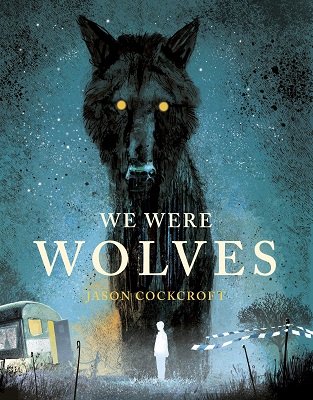 We Were Wolves
Author – Jason Cockcroft
Publisher – Andersen Press
Pages – 216
Released – 5th May 2021
ISBN-13 – 978-1839130571
Format – ebook, hardcover
Rating – 4 Stars
I received a free copy of this book.
This post contains affiliate links.


Synopsis
Boy lives in a caravan on his own in the woods. His dad, John, is in prison and promises to get out soon. All the boy needs to do is survive alone for a little while longer.
But dark forces are circling – like the dangerous man in the Range Rover, who is looking for his stolen money. And then there are the ancient forces that have lain asleep in the woods for an age…
We Were Wolves tells the story of a nameless teenage boy who lives with his father in a caravan in the woods. His father John has been released from the army and has PTSD from his time serving in war zones. He has the skills that criminals are looking for and with needing to put food on the table and dreams of moving his family to Scotland it is these criminals he gets involved with.
A few days before a 'big' job, John is sent to prison, leaving his son to fend for himself. He gives his lawyer some money for his son and a rucksack, telling his son not to look inside and to keep it safe. However, the boy is curious, and inside is a gun. He is also informed of a large box filled with money hidden under the caravan.
Whilst alone boy takes in a stray dog called Mol and meets a teenage girl, Sophie, who is staying at a nearby farm. He also encounters the bad man and strange dark ancient forces that are in the woods.
This YA book deals with a lot of issues in the world today including PTSD, poverty, criminals, bullying, divorce, neglect, etc. It is told from the boy's POV and it is filled with metaphors and similes to show you what he is feeling or to analyse the situation. Even the title is a metaphor, as wolves stick together just like the boy and his dad. It also has a fantasy element to it.
It is a very dark story at times and quite poetic too. The first half of the book is mainly explaining the situation that boy is in and the life he lives, such as why he chose to live in a caravan without a toilet, heating, etc in the woods with his father and why his mother let her son go.
It is the second half of the book where the tension, excitement, and adventure grew. There are also haunting illustrations throughout that give the story a creepy feel.
For those who love this style of writing, think Patrick Ness, this book will be a hit. I can see it confusing some people too as you have to read between the lines a lot to fully understand it.
Purchase Online From:
---
What did you think of 'We Were Wolves'? Share your thoughts in the comment section below!
---
The above links are affiliate links. I receive a very small percentage from each item you purchase via these link, which is at no extra cost to you. If you are thinking about purchasing the book, please think about using one of the links. All money received goes back into the blog and helps to keep it running. Thank you.
Like us on Facebook – Tweet us on Twitter – Pin us on Pinterest – Join us on Instagram