Now You See Me, Now You Don't by Patricia Hegarty – Book Review
Now You See Me, Now You Don't by Patricia Hegarty – Book Review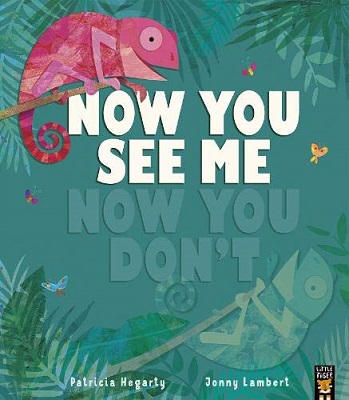 Now You See Me, Now You Don't
Author – Patricia Hegarty
Illustrator – Jonny Lambert
Publisher – Little Tiger Press
Pages – 32
Released – 8th January 2021
ISBN-13 – 978-1788816885
Format – paperback, hardcover
Rating – 4 Stars
I received a free copy of this book.
This post contains affiliate links.


Synopsis
I am Chameleon.
I do as I please.
I can play tricks
and nobody sees . . .
Spot the invisible chameleon in this irreverent rhyming romp!
Chameleon is being naughty. He is very good at hiding in plain sight which makes him perfect for doing things such as scaring elephant, tickling sloth, and stealing orangutan's banana.
The other animals are not happy with what has been happening but they don't know who has been causing all the bother, but one animal does. Frog who can also hide in plain sight has been watching chameleon and decides enough is enough and teaches him a lesson.
Now You See Me, Now You Don't is a fun children's picture book featuring a mischievous chameleon who uses his ability to change colour, thus camouflaging himself against objects to trick the other animals. He enjoys causing mayhem and doesn't realise that the other animals don't like it.
The text is quite short and rhymes in parts though you realise pretty early on that not only is chameleon having fun playing tricks he also has some choice words about some of the animals and situations such as 'Just look at old Big Ears' when talking about elephant, and 'Bedtime's for losers'.
On each page/double-page, there are bright, colourful illustrations featuring different animals and scenery. There are also two hidden animals, chameleon and frog which children have to find.
The story is about a chameleon learning the error of his ways and apologising for the things he has done. Although it did take him to be on the receiving end to learn that the other animals in the jungle didn't like his idea of fun.
I am sure children will enjoy the story as well as having to search each picture for the two animals. It is a book about kindness and learning that what might make you laugh might make someone else unhappy. The moral of the story is that it is never okay to find your happiness at other's expense.
Purchase Online From:
---
What did you think of 'Now You See Me, Now You Don't'? Share your thoughts in the comment section below!
---
The above links are affiliate links. I receive a very small percentage from each item you purchase via these link, which is at no extra cost to you. If you are thinking about purchasing the book, please think about using one of the links. All money received goes back into the blog and helps to keep it running. Thank you.
Like us on Facebook – Tweet us on Twitter – Pin us on Pinterest – Join us on Instagram