Fletcher and the Caterpillar by Julia Rawlinson – Book Review
Fletcher and the Caterpillar by Julia Rawlinson – Book Review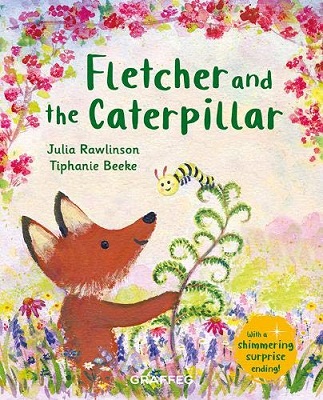 Fletcher and the Caterpillar
Author – Julia Rawlinson
Illustrator – Tiphanie Beeke
Publisher – Graffeg Limited
Pages – 32
Released – 23rd March 2021
ISBN-13 – 978-1913733933
Format – ebook, hardcover
Rating – 4 Stars
I received a free copy of this book.
This post contains affiliate links.


Synopsis
Fletcher finds a caterpillar under a juicy green leaf. With the help of his friends, he introduces it to lots of games. But all it wants to do is munch.
When Caterpillar stops munching, Fletcher is worried but as spring turns to summer, something magical is about to happen! Join Fletcher and his friends as they discover a shimmering surprise in this joyous seasonal story.
One day Fletcher the fox comes across a caterpillar. He wants to be friends with the caterpillar and play lots of games but all his new friend wants to do is eat. Then one day he stops eating and looks tired. Fletcher is worried but his mum assures him that it is normal and something magical is about to happen to his friend.
Fletcher and the Caterpillar is a beautiful children's picture book that is part of the 'Fletcher' series. It is the first book from this series that I have read though all the books are individual with the same returning character.
The pages are filled with adorable illustrations which look like they have been drawn in crayon. They emphasise what is happening in the story perfectly and capture the love that Fletcher has for his new friend and his worries when he stops munching.
Children will learn all about how caterpillars become butterflies and the process they go through which has been written in an easy-to-understand and follow manner and encased in a sweet story of friendship.
This is a lovely book that will appeal to children who love a happy ending and books featuring animals. It will also educate them without them realising.
Purchase Online From:
---
What did you think of 'Fletcher and the Caterpillar'? Share your thoughts in the comment section below!
---
The above links are affiliate links. I receive a very small percentage from each item you purchase via these link, which is at no extra cost to you. If you are thinking about purchasing the book, please think about using one of the links. All money received goes back into the blog and helps to keep it running. Thank you.
Like us on Facebook – Tweet us on Twitter – Pin us on Pinterest – Join us on Instagram