Talking Tiger is Tough by Konnilaree Sanders – Book Review
Talking Tiger is Tough by Konnilaree Sanders – Book Review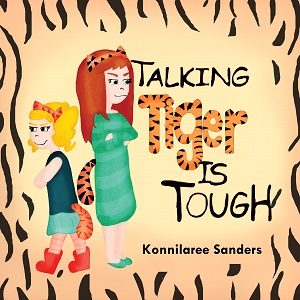 Talking Tiger is Tough
Author – Konnilaree Sanders
Publisher – Stories by Mom
Pages – 30
Released – 1st September 2017
ISBN-13 – 978-0692937747
Format – ebook, paperback
Reviewer – Jodie
I received a free copy of this book
Post contains affiliate links.
Cate and Lily love playing tough tigers. When their tummies began to roar, they tried to tell mom. But, mom couldn't understand their growls.
They found out how tough it is to be a tiger. Mom would have to figure out how to tame these predators.
Review
Inspired by the author's two daughters, this story is about sisters Cate and Lily. With some creative and colourful paper craft, they turn themselves into tigers. They dance and roar. Soon hunger overcomes them.
When Mum appears Cate and Lily both growl at her. Mum doesn't understand their Tiger language so the girls get angry. They have a tantrum and then storm off to their bedroom. The girls soon begin to regret their actions. Meanwhile Mum cooks up some spaghetti and takes it upstairs to her little tigers. The girls apologise, eat their dinner, and thank their mum.
The book is set out in rhyme format which I usually find a joy. The rhyming here doesn't always flow but it doesn't detract from the story.
The illustrations were bright and eye catching, if a little messy. I was a bit confused by the cat. It kept switching colours between ginger and grey. It wasn't until I got to the end of the book that it showed both cats on the same page and I realised there were in fact two cats!
The way the sisters behaved toward their mum wasn't nice. Yes, children can sometimes be little terrors. In this instance, the girls are seen scratching and biting their mum's arm. There are visible red scratch marks. I wasn't comfortable with this, but you could argue that the girls were simply being tigers. The girls do realise the error of their ways and apologise to their mum, which sets a good example.
I think the story and illustrations could be improved. Lily's facial expressions always appeared angry and sinister, even when she's meant to be happy.
I really liked the promotion of creativity where Cate and Lily designed and made tiger ears and tails. I feel it's important that children have the opportunity to unleash their creative side.
It's not a book for me but that's not to say others won't like it. I'm sure they will, especially if their little ones like acting out as animals.
Reviewed by Jodie

---
About the Author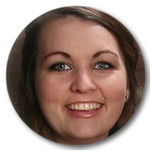 Konnilaree Sanders is a mother of two from Mesa, AZ. She previously worked in the field of accounting until she traded her calculator for a keyboard and art set.
Konnilaree was inspired by and a bit mystified by her children's imagination, feelings, and reactions to the world around them. Her stories combine her real life experiences and artistic imagination to create a world that both kids and adults can relate to.





---