Sir Tim Has a Secret by Judith Koppens – Book Review
Sir Tim Has a Secret by Judith Koppens – Book Review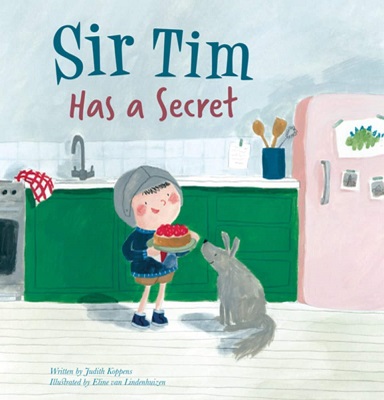 Sir Tim Has a Secret
Author – Judith Koppens
Illustrator – Eline van Lindenhuizen
Publisher – Clavis
Pages – 32
Released – 23rd July 2020
ISBN-13 – 978-1605375366
Format – hardcover
Review by – Stacey
Rating – 3.5 Stars
I received a free copy of this book.
This post contains affiliate links.


Real knights are always honest. But when Sir Tim accidentally rips his cape, he tries to blame his friend Max. And when Mom leaves a strawberry shortcake on the table, he sneaks a bite. Keeping all these secrets begins to give Sir Tim a bellyache . . .

Little Sir Tim is out playing at the park when he accidentally rips his cape. However, when he goes home and his mum asks him how his cape became ripped he makes up a story about his best friend causing his cape to rip rather than tell the truth.
His mum believes his lies and then shows Tim a cake she has gotten for after their dinner. When his mum leaves the kitchen, Tim can't help himself and eats the whole cake blaming the cake eating on his dog. But will mum believe his lies this time too?
I'm a great believer in the fact that you need to teach kids discipline, manners, and honesty from a young age as it is so much easier than trying to instil these things as they get older. One of my biggest pet peeves is lying and I've explained to my children that telling the truth is always so much harder but also so much more rewarding than telling a lie because you do get a sense of relief afterward and that it is good to be seen as honest not someone who lies for no reason.
This book is a good example of the little lies that children tell. However, whilst I do think the meaning and the idea behind the book are very worthy, I'm not sure about some of the wording. Is it too PC these days to call a child a liar because that's what a person who lies is? Also when Tim got a stomachache from eating all the strawberry shortcake the stomachache magically disappears when he has told the truth, this just wouldn't happen. He has stomachache from eating too much cake not from being worried about lying.
Overall, I think it is a good start but I think parents/guardian's need to make it clear to the child they are reading too that Tim did a bad thing and that he told lies and was naughty for doing so, as in my opinion as a mother of three, Tim's mum is a little too soft on him.
Book Reviewer – Stacey
---
Purchase online from:
---
What did you think of Sir Tim Has a Secret? Share your thoughts in the comment section below!
---
The above links are affiliate links. I receive a very small percentage from each item you purchase via these link, which is at no extra cost to you. If you are thinking about purchasing the book, please think about using one of the links. All money received goes back into the blog and helps to keep it running. Thank you.
Like us on Facebook – Tweet us on Twitter – Pin us on Pinterest