Monty and the Slobbernosserus by M.T. Sanders – Book Review
Monty and the Slobbernosserus by M.T. Sanders – Book Review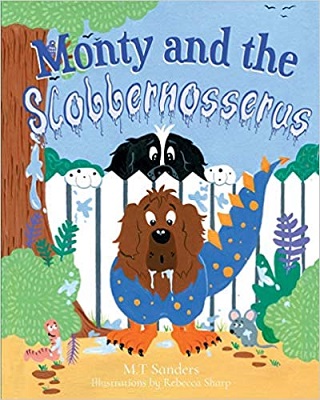 Monty and the Slobbernosserus
Author – M.T. Sanders
Publisher – 2QT Limited
Pages – 40
Released – 28th October 2017
ISBN-13 – 978-1912014798
Format – paperback
Review by – Stacey
Rating – 5 Stars
I received a free copy of this book.
This post contains affiliate links.


When Monty was asked to look after his new sister how hard could it be?
An open gate and a fleeing mailman was just the invitation she needed. Now it was up to Monty to save the day before they both ended up in deep trouble.
So, watch out everyone it's time to run…for your raincoats.

Monty and the Slobbernosserus is the first book in the Monty the Dog series by M.T. Sanders. I had reviewed all the other books in the series but the first one had escaped me. When the latest book in the series arrived in the post, 'Monty and the Land of the Dinodogs', this one arrived with it. The author recommended that I need not review it but after reading it and having a good giggle along the way I decided I wanted to.
In this first book, Monty meets Cookie who has come to live with the family. One day when the hoomans (humans) go out for the day they ask Monty to keep an eye on Cookie. However, she manages to get loose and causes havoc with the local people and animals, slobbering all over them.
The storyline is fantastic. It is so funny and did make me laugh-out-loud on several occasions. It felt like there was more text in this book than the others so it might be a struggle for children to read on their own but it would certainly work as a bedtime story or as a class read (when the schools are back open again).
The illustrations may be different from the others in the series but the cartoon style pictures actually work for the amusing, silly plot. Monty and the Slobbernosserus is a real joy of a book that I am certain young children will adore. With plenty of dogs, lots of slobbering, and pages of daft moments what's not to love.
Book Reviewer – Stacey
---
Purchase online from:
---
About the Author
I'm Mark
Being an author has been a lifelong dream of mine and I am loving writing stories that children and adults enjoy reading. It's fair to say I came to this late in life after spending my working life as a zookeeper and later as a football coach.





---
What did you think of Monty and the Slobbernosserus? Share your thoughts in the comment section below!
---
The above links are affiliate links. I receive a very small percentage from each item you purchase via these link, which is at no extra cost to you. If you are thinking about purchasing the book, please think about using one of the links. All money received goes back into the blog and helps to keep it running. Thank you.
Like us on Facebook – Tweet us on Twitter – Pin us on Pinterest