Pop-Up Crown Jewels – Book Review
Pop-Up Crown Jewels – Book Review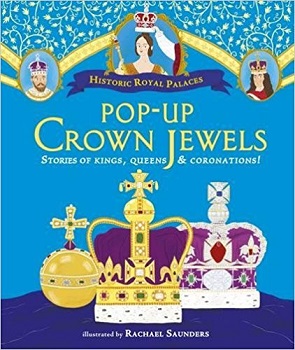 Pop-Up Crown Jewels


Stories of Kings, Queens & Coronations
Illustrator – Rachael Saunders
Publisher – Walker Books
Pages – 18
Release Date – 6th April 2017
ISBN-13 – 978-1406374094
Format – hardcover
Reviewer – Stacey
I received a free copy of this book.
This post contains affiliate links.

A fascinating pop-up history of the Crown Jewels, beautifully illustrated and packed with facts, published in association with Historic Royal Palaces. Explore the iconic jewels' colourful past and discover how they were made. A book to treasure for royal enthusiasts and history lovers of all ages.

Pop-Up Crown Jewels, is a small book just 18.5cms tall, and 18 pages long, but it certainly packs a lot in.
Each double page contains a different pop-up. Plus, you will find lift up flaps too. What child doesn't like a pop-up book?
Starting off with a pop-up of a crown, the book teaches all about how the crowns came into use (yes there are more than one). From the Saint Edwards crown, that is used for crowning a new king or queen, to the imperial state crown, that is used at the end of a coronation.
Throughout the book children will discover, via the crown jewels, all about the coronation ceremony, the history of the royal family, and mishaps that have happened to the jewels over the years – some will certainly have children laughing, plus, what the jewels are still used for today.
This book is a great way of getting children interested in learning about the royal family. It would also be perfect for those that are interested in factual books too.
An interesting book that educates children in a fun manner, and will have them showing off their new knowledge. It would work just as well at home, as well as at school.
Book reviewed by Stacey
Purchase Links