Chicago Monsters by Carine LaForest – Book Review
Chicago Monsters by Carine LaForest – Book Review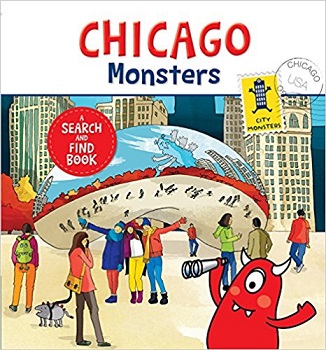 Chicago Monsters


A Search-And-Find Book
Author – Carine LaForest
Publisher – City Monsters
Pages – 22
Release Date – 16th May 2017
ISBN-13 – 978-2924734018
Format – boardbook
Stacey
I received a free copy of this book.
This post contains affiliate links.

Do you know Chicago? The Windy City is a world-class metropolis that is also a magnet for little monsters. Did you know that? Monsters are masters of camouflage who can easily hide in plain sight. They blend in with the dolphins at the Shedd Aquarium, get lost in the crowd at Navy Pier and even surface at Cloud Gate!
Have fun spotting them all as you explore some of Chicago's most iconic landmarks and sights, including Millennium Park, the Art Institute of Chicago, the Centennial Wheel, the Magnificent Mile, the Lincoln Park Zoo and Oak Street Beach.

Chicago Monsters, is the third book in the City Monsters, Search and Find, series that I have reviewed. The others being, New York city, and San Francisco.
In this book, based in the windy city, there are monsters hiding amongst some of the most famous landmarks, including, Michigan Avenue Bridge, Crown Fountain (with it's changing faces), and Chicago Water Tower. Some are easy to find, others will take you quite a while. There are also a different amount of monsters to find on each page.
As you may of gathered, seen as this is the third book that I have reviewed in this series, these books are a firm favourite in our house, not just with the kids either, I think they are great too. My son asks me at least once a week if I have more to review, unfortunately, not at this moment.
The books are all beautifully illustrated, brightly coloured and depict the famous landmarks with accuracy. They are fun to read, and educational too, what more could you want?
I do hope that there will be a lot more of these books published in the future, (I know that Boston and Washington DC are due for release in August 2017), if so, you will certainly find them all being reviewed on this blog.
Book reviewed by Stacey
Purchase Links

You can read our reviews of the other 'City Monsters' books – New York City – San Francisco