New York City Monsters by Anne Paradis – Book Review
New York City Monsters by Anne Paradis – Book Review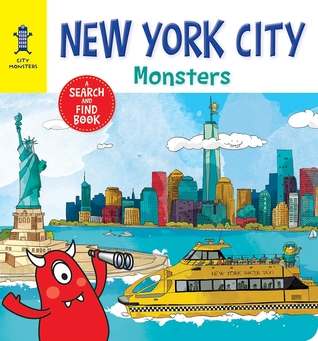 New York City Monsters


A Search and Find Book
Author – Anne Paradis
Publisher – City Monsters
Pages – 22
Release Date – 16th May 2017
ISBN-13 – 978-2924734025
Format – Board book
Reviewer – Stacey
I received a free copy of this book
Post Contains Affiliate Links

Do you know New York City? The City So Nice They Named it Twice attracts people from all over the world—even little monsters! Did you know that?
Monsters are masters of camouflage who can easily hide in plain sight. They lie low among the dinosaur bones in the Museum of Natural History, go incognito in Times Square and even pay a visit to Lady Liberty! Have fun spotting them all as you explore some of the Big Apple's most iconic landmarks and sights.

New York City Monsters, is a fabulous book by Anne Paradis. It is a search and find book, so on each page you have numerous monsters to discover, hidden within the illustrations, (it does tell you on each page how many monsters you need to find).
Throughout the book you get to visit, Brooklyn Bridge, Times Square, Rockefeller Center Ice Rink, Thanksgiving Day Parade, plus many more places of interest.
The book is filled will beautiful, brightly coloured illustrations drawn by Lucile Danis Drouot. They really capture the essence of the city, and the popular tourist attractions within.
Young children will have so much fun with this book. Older children won't find it too boring, or babyish for them either, as some of the monsters are quite difficult to find, it too me quite a while to find a few of them!!
Whether you have been to New York or not, or are a fan of the city or not, this book is extremely enjoyable, and well worth five stars.
Book Reviewed by Stacey
Purchase Links

You can read our reviews of the other 'City Monsters' books – Washington D.C – San Francisco – Chicago