The Last Hunter by Luke Romyn – Book Review
The Last Hunter by Luke Romyn – Book Review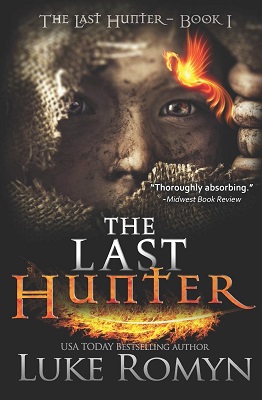 The Last Hunter
Book One
Author – Luke Romyn
Pages – 344
Released – 10th October 2020
ISBN-13 – 979-8695850789
Format – ebook, paperback
Review by – Stacey
Rating – 4 Stars
I received a free copy of this book.
This post contains affiliate links.


Theodore Beckett knows nothing of magic until his bedroom wall smiles…
… and then tries to kill him.
Doors to a whole new world suddenly crash open for Theo, a world filled with monsters, magicians, and dragons. His role in this secret society slowly unfolds when Theo learns he is the son of its lost hero. The man who defeated the Orc King. Elijah Dros.
A new war looms, and Theo realizes his introduction might not be a coincidence. He may well be the last Hunter. But with nobody to teach him, how will Theo ever learn to protect himself, let alone others?

Young Theodore Beckett (Theo), thought that he had a fairly normal life living with his Uncle in the basement of his house, that was until one of the bricks smiled at him and then tried to kill him. He is sent into a spin and appears on a London street with the warning to run from a mysterious person.
In London, he meets a crow, that turns out to be a 'destiny crow' who keeps on repeating to him that he can't go home. The crow leads Theo down alleyways until they come to a shop selling knick-knacks. The woman inside is not from this world and offers to help Theo by taking him to the 'Council of Elders', they will know what to do with him.
Theo never knew his parents but it would seem that he is the son of the man who defeated the Orc King and with an uprising within the evil community again, Theo is on their hit list as it turns out he is a powerful monster hunter and could be the only one to save the world as it currently stands.
The Last Hunter has everything a child who loves adventure stories could want in a book. With witches, seers, dragons, monsters, fighting, and the will to defeat evil.
The book is fast-paced and has been imaginatively thought out by someone very creative, though I could see sections of other magical realism books within this one though I feel it does stand on its own merit.
Theo is just a normal boy thrown, literally, into this world he never knew existed. I can see young readers being excited by this. He grows as he learns more about himself and his training begins to become a hunter.
My only concern is the length of the novel as I would put this more for middle-grade readers but it is quite long, especially as it is part of a series, and some of the chapters are too long in my opinion making them feel like they were dragging. However, hopefully, the readers will stick with the book as it is exciting and immerses them into this dark fantasy world complete with plenty of action and delightful characters.
Book Reviewer – Stacey
---
Purchase online from:
---
About the Author

Luke Romyn was born in Sydney, Australia, in 1975. His life since reads like something out of his novels: heavily entrenched in personal trauma, action, thrills, and adventure.
For over two decades, Luke has worked in the security industry; from bouncing in some of Australia's roughest pubs and nightclubs to protecting Mickey Mouse and the Disney crew from the overzealous jaws of tenacious toddlers. He's been bodyguard for celebrities internationally and chased feral pigs and snakes from jungle sets on Steven Spielberg productions. Luke has traveled the globe and spent time in some of the most amazing locations the world has to offer.
This experience fuels the Australian writer's ever-expansive imagination, and he pours it into his novels, combining fact with fiction, history with fantasy, delivering engrossing action-thrillers which leave fans gasping for more. Luke's quick wit has seen his social media following explode, and he is currently one of the most prolific social media celebrities in Australia, with several hundred thousand followers across the internet.
Publishing his first book, The Dark Path, in 2009 saw it voted in the top 10 horror novels of that year, even though Luke denies ever intending the novel to be classed as horror. Luke Romyn is now one of the most popular indie authors in the ever-growing eBook market and personally completes everything from cover art to final formatting, working tirelessly with editors so as to refine the best stories possible for his readers. The results are international bestsellers you're certain to love diving into. Hundreds of thousands of readers can't be wrong.




---
What did you think of The Last Hunter? Share your thoughts in the comment section below!
---
The above links are affiliate links. I receive a very small percentage from each item you purchase via these link, which is at no extra cost to you. If you are thinking about purchasing the book, please think about using one of the links. All money received goes back into the blog and helps to keep it running. Thank you.
Like us on Facebook – Tweet us on Twitter – Pin us on Pinterest