Penguin Beach by Lawrence Prestidge – Book Review
Penguin Beach by Lawrence Prestidge – Book Review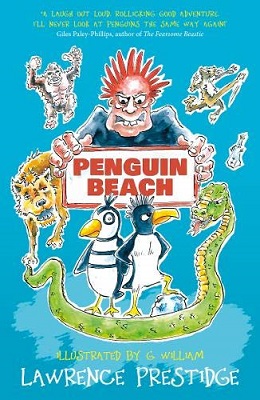 Penguin Beach
Author – Lawrence Prestidge
Publisher – Matador
Pages – 144
Released – 16th June 2020
ISBN-13 – 978-1838594862
Format – ebook, paperback
Review by – Stacey
Rating – 4 Stars
I received a free copy of this book.
This post contains affiliate links.


Clyde loves being a penguin! He's the star of the show at London Zoo's Penguin Beach, delighting visitors every day. From the way he waddles, to his tuxedo-like feathers, no one can resist the loveable charms of Clyde the penguin. That is, until Diego, a new penguin from Spain, arrives. Why do the visitors love his back-flips and leaps so much? And why are the other penguins so impressed by him?
Clyde must come up with a plan to drive Diego out and claim the top spot again. This is his beach. This is his spotlight. However, his mischievous plans have gone too far and Diego may be in danger. Clyde and his penguin friends go on a mission to find Diego. Will they find him, or will the pythons, gorillas and a trio of 'bad guys' get in their way?

London Zoo has its very own penguin show with the star being Clyde. He loves entertaining the visitors and putting on a show, that is until exotic new penguin Diego moves into Penguin Beach, the penguin's home and suddenly all the focus is on him and his amazing life and acrobatic moves.
Clyde is feeling pushed out but he comes up with an idea to plant a seed into Diego's head in which he tells him that Penguin Beach is like a prison and he is a penguin of the world and shouldn't be kept in one place for the rest of his life.
Soon Diego is off, but a zoo is a dangerous place for a lone penguin and after being told off Clyde decides to go after him. The other penguins then decide to go look for both of them. With the other animals wanting a piece of them and some bad guys after Diego, this is going to be one adventurous and long night.
Penguin Beach is a fun, exciting children's book that reminded me of a mixture of Toy Story and Fantastic Mr. Fox. Clyde is used to being the star of the show, having all the other penguins look up to him and to be their leader, the first to get the fish of the day, etc. When Diego comes in telling tales of his adventures in the military, how he parachutes, learned to fall without hurting himself, and can do acrobats, the other penguins fixate on him and he also becomes the star of the show for the visitors.
Just like Woody in Toy Story, Clyde takes drastic action as he is feeling left out and not used to being overlooked. But when the other penguins realise what he did he is made to go and find him and bring him back. From dealing with the laughing Hyenas to a Python that wants to eat him, Clyde must carry on until he brings Diego home.
The plot is fast-paced and very humorous. I particularly liked the Hyenas who told jokes and had used all their material so they wanted a joke book from the gift shop.
The penguins each had their own personalities as well as the other animals in the zoo. I loved some of the names that author Lawrence Prestidge had given them, such as Cuddles the Python.
The book is very wordy, so I would say this is more of a middle-grade story. There are some black and white cartoon illustrations throughout which were amusing to look at and I like a children's book with pictures as I always feel it helps the young readers to connect to the story.
It took me a few chapters to get into the book, once I hit I think it was chapter three I was hooked and I didn't want to put it down from that moment onward.
Overall, this is a fun, entertaining, adventure story featuring some amazing characters which are easily identifiable in the real world and will make kids giggle.
Book Reviewer – Stacey
---
Purchase online from:
---
About the Author
Lawrence Prestidge is a popular children's author from Oxfordshire, best known for his children's novel Terror at the Sweet Shop. Educated at the University of Bedfordshire, Lawrence has previously worked with Disney as well as theatres across London.
Lawrence visits many different Primary and Secondary schools throughout the year and travels all around the country doing so. He is the author of four children's books.





---
What did you think of Penguin Beach? Share your thoughts in the comment section below!
---
The above links are affiliate links. I receive a very small percentage from each item you purchase via these link, which is at no extra cost to you. If you are thinking about purchasing the book, please think about using one of the links. All money received goes back into the blog and helps to keep it running. Thank you.
Like us on Facebook – Tweet us on Twitter – Pin us on Pinterest