Honey for You, Honey for Me by Michael Rosen – Book Review
Honey for You, Honey for Me by Michael Rosen – Book Review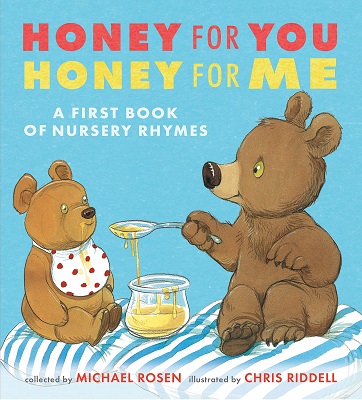 Honey for You, Honey for Me
A First Book of Nursery Rhymes
Author – Michael Rosen
Illustrator – Chris Riddell
Publisher – Walker Books
Pages – 80
Released – 3rd September 2020
ISBN-13 – 978-1406374636
Format – hardcover
Review by – Stacey
Rating – 4 Stars
I received a free copy of this book.
This post contains affiliate links.


From Children's Laureates Michael Rosen and Chris Riddell, the bestselling team behind A Great Big Cuddle, comes a first book of nursery rhymes.
Flying pigs, wobbling plates of jelly and a giant who trembles whenever he meets a mouse: welcome to the topsy-turvy world of nursery rhymes. Inspired by his lifelong fascination with these peculiar poems, Michael Rosen has placed familiar playground songs alongside forgotten gems for a seminal new collection.
Brought to vivid life by Chris Riddell's magnificent pictures, expect familiar faces, from little Jumping Joan to Miss Mary Mack – but also plenty of surprises… With forty rhymes to choose from, this book is sure to prove a bedtime favourite.

In this large hardback book measuring around 26.5cm x 29.5cm, author Michael Rosen (who I adore) has written numerous poems for young children. Included in the book are a few well-known ones such a 'The North Wind Doth Blow' and 'Jelly on a Plate' too.
Each of the poems is brought to life by Chris Riddell's fabulous illustrations which are a joy to the eyes and light up the pages with their bright colours and hilarious facial expressions.
Most of the poems are very short, just a few lines long, whilst others are full-page. Each poem is written in a different font and size which I loved and added character. Some of the poems are wacky, some very cute. All however are lovely.
The book includes thirty-six poems. If I had to choose one which is my favourite I think it would be 'Higgledy, Piggledy Pop!'. It gave me a good giggle.
This is a superb book for your little ones or to have at school or nursery. It would be a wonderful book for new readers to practice their reading or even for those learning.
Overall, a large book, lots of rhymes, plenty of amusing illustrations makes this book one to purchase whether for your child, a school, or even a gift.
Book Reviewer – Stacey
---
Purchase online from:
---
About the Author

Michael Rosen, a recent British Children's Laureate, has written many acclaimed books for children, including WE'RE GOING ON A BEAR HUNT, illustrated by Helen Oxenbury, and I'M NUMBER ONE and THIS IS OUR HOUSE, both illustrated by Bob Graham. Michael Rosen lives in London.



---
What did you think of Honey for You, Honey for Me? Share your thoughts in the comment section below!
---
The above links are affiliate links. I receive a very small percentage from each item you purchase via these link, which is at no extra cost to you. If you are thinking about purchasing the book, please think about using one of the links. All money received goes back into the blog and helps to keep it running. Thank you.
Like us on Facebook – Tweet us on Twitter – Pin us on Pinterest