Coop Chaos: Morning Mystery by Alyson Oliver – Book Review
Coop Chaos: Morning Mystery by Alyson Oliver – Book Review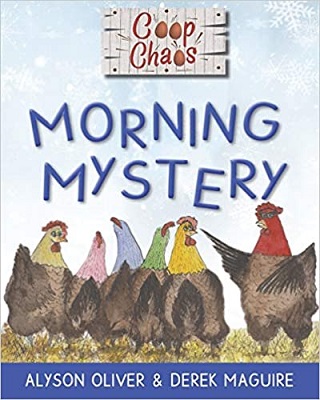 Coop Chaos: Morning Mystery
Author – Alyson Oliver
Illustrator – Derek Maguire
Pages – 27
Released – 2nd March 2020
ISBN-13 – 979-8608277023
Format – paperback
Review by – Stacey
Rating – 4 Stars
I received a free copy of this book.
This post contains affiliate links.


Meet Daisy, Lily, Rose, Buttercup, Bluebell, and Poppy. These quirky hens are a delight to know. Each with their own unique character, they will stimulate the imagination of children and encourage them to learn about friendship and behaviour.
Children and adults will delight in the Coop Chaos book series by Alyson Oliver and Derek Maguire. In this book, Morning Mystery, the hens wake-up and discover something unusual. What is it? What is happening? The hens look to clever Poppy for an answer, however, will mischievous Daisy be the first to solve the mystery?

The hens on Mr. Green's farm had woken up to freezing conditions. In the midst of their usual morning bickering a strange sound could be heard, similar to the sound of the rain but it wasn't raining.
They also noticed Mr. Green was late to open their hatch and feed them. After trying to work out what the noise was and where their owner had gotten to they noticed big, fluffy, white shapes falling from the sky. But what was this strange stuff?
Coop Chaos: Morning Mystery is the first book in a new series featuring hens Buttercup, Bluebell, Daisy, Poppy, Lilly, and Rose who all have their own personalities. In our first meeting with the hens, we get to see some of their personalities coming through, including how clever Poppy is and how naughty Daisy can be.
The book is a whole lot of fun and includes wonderful artwork that is bright and colourful. I love that the hens were both humorous and emotional. I also loved them trying to work out what the cold white stuff falling from the sky was.
There is a lot of writing so this is more for those children that can read well or for someone to read to a child. I think it is a lovely start to the series and I look forward to reading more about the hens in the future.
Book Reviewer – Stacey
---
Purchase online from:
---
What did you think of Coop Chaos: Morning Mystery? Share your thoughts in the comment section below!
---
The above links are affiliate links. I receive a very small percentage from each item you purchase via these link, which is at no extra cost to you. If you are thinking about purchasing the book, please think about using one of the links. All money received goes back into the blog and helps to keep it running. Thank you.
Like us on Facebook – Tweet us on Twitter – Pin us on Pinterest