Barking Up the Wrong Tree by Philip Ardagh – Book Review
Barking Up the Wrong Tree by Philip Ardagh – Book Review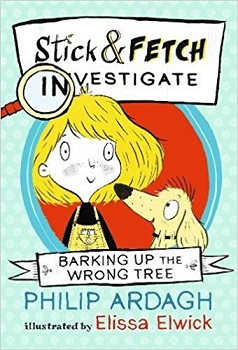 Barking Up the Wrong Tree
Stick and Fetch Investigate
Author – Philip Ardagh
Illustrator – Elissa Elwick
Publisher – Walker Books
Pages – 144
Released – 1st March 2018
ISBN-13 – 978-1406376449
Format – paperback, audio
Reviewer – Stacey
Rating – 5 Stars
I received a free copy of this book
Post contains affiliate links
Sally loves nothing more than investigating a good mystery – and her shaggy canine companion Fetch loves nothing more than to be at her side when she does. There's just one small problem: they always gets the wrong end of the stick!
The hapless pair remain undeterred, however, dashing from one crime scene to another on their bicycle, leaving a trail of destruction in their wake … yet always emerging blissfully unaware. A fun, madcap trio of stories featuring two loveable heroes with a LOT of hair.

Sally Stick lives with her Grandmother and dog Fetch. She has decided that she wants to be a detective, so together with her dog (who can speak to Sally), the pair set up 'Stick & Fetch Investigations'.
Throughout the book the pair work on three cases:-
– Telly Trouble
– No Clowning Around
– Up Up and Away
However, Sally has a knack for getting the wrong end of the stick, leading to lots of mayhem and comical moments in their investigations.
'Barking Up The Wrong Tree', is the first book, in what looks like is going to be a new detective series by renowned children's author, Philip Ardagh, following the two best friends as they solve mysteries that weren't really mysteries.
The book itself is quite small in height, 18cm, which is a perfect size for young children. Inside there are three separate stories, each revolving around a different case. Being a 'detective' book, there are plenty of words that children might never of heard of before within the text. These are not only explained, 'Arch-Nemesis – worst enemy', but they are also written in a different font too.
Nearly each page has illustrations adorning them. They are all black, white, grey and yellow, making them stand out, and bring the story to life.
Barking Up the Wrong Tree is a book that engages the reader and takes them on a laugh-out-loud adventure. It is filled with plenty of slapstick humour and is entertaining from beginning to end. Perfect for children just learning to read, and those wanting a brilliant story to keep them amused.
Book Reviewer – Stacey
---
Purchase online from:
---
About the Author

Roald Dahl Funny Prize-winning author Philip Ardagh is the author of The Grunts and National Trust: The Secret Diary series. He is probably best known for his Grubtown Tales, but he is author of over 100 books.
He is a "regular irregular" reviewer of children's books for The Guardian, and is currently developing a series for television. Philip Ardagh is two metres tall with a ridiculously big, bushy beard and size sixteen feet, making him an instantly recognisable figure at literary festivals around the world.



---