Earth Verse by Sally M. Walker – Book Review
Earth Verse by Sally M. Walker – Book Review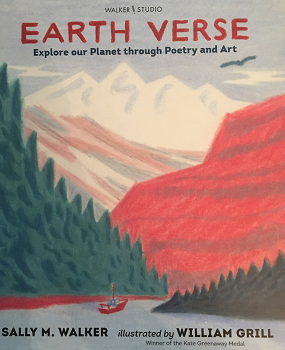 Earth Verse
Explore our Planet through Poetry and Art
Author – Sally M. Walker
Illustrator – William Grill
Publisher – Walker Books
Pages – 48
Released – 1st March 2018
ISBN-13 – 978-1406376494
Format – hardcover
Reviewer – Stacey
Rating – 3.5 Stars
I received a free copy of this book
Post contains affiliate links
From the hidden wonders of fossilization, rocks and the water cycle, to awe-inspiring spectacles like volcanoes, thunderstorms and glaciers, discover the magnificent ways the world works in this unique and beautiful approach to earth science.
Vivid illustrations by William Grill, the Kate Greenaway medal-winning creator of Shackleton's Journey, and illuminating haikus from Sally M. Walker reveal the extraordinary processes that happen all around us. A book to treasure for art- and science-lovers alike.

Through 29 Haikus, Sally M. Walker teaches children about the world, opening with 'third one from the sun, Earth's blue and white majesty, dwarfs her lunar child'.
All of the Haikus were a delight to read and at the back of the book there are nine pages, all covering a different topic about the earth, giving factual information that correlates to the Haikus. In the bottom right hand corner is a circle with an image, this same image is on one of the factual pages at the back, letting children know which page, goes with which factual information page.
However, I have mixed feeling about this book. Firstly, some of the words are words which children, and most likely a lot of adults, will never of heard of before. Pahoehoe, Pyroclastic, Maiasaura, Gneiss, etc. This makes the book tricky to read as children won't know what they mean and some are hard to pronounce too.
On one hand, I think this gives a child the opportunity to find out what these words mean, but on the other will children actually want to then go look up the words or will they just gloss over them? Plus, the text is very small, I feel with all the empty space on the pages the font could of been a lot bigger.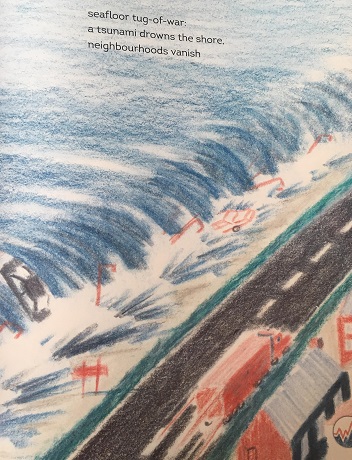 The illustrations are also hit and miss with me. They are designed in pastel/crayon style and are quite blurred, this is how they are meant to be. Again, on one hand I feel that the illustrations are unique and different, on the other I don't feel they complement the book.
As I said I'm not too sure what to make of Earth Verse. I feel that it has been cleverly created by a renowned author of children's educational books. Hopefully, children will enjoy it.
Reviewed by Stacey
---
Purchase online from:
---
About the Author

Sally Walker has written more than 50 nonfiction books for young readers. She enjoys finding and sharing odd snippets of information to interest them in history and science. Her books are packed with personal anecdotes and humor, as she searches out true tales in graveyards, zoos, the Shedd Aquarium, back rooms of museums, and in dusty archives.



---