Nevertell by Katharine Orton – Book Review
Nevertell by Katharine Orton – Book Review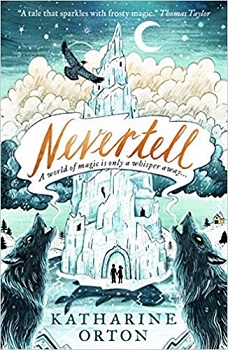 Nevertell
Author – Katharine Orton
Publisher – Walker Books
Pages – 384
Released – 7th November 2019
ISBN-13 – 978-1406385182
Format – ebook, paperback, audio
Review by – Stacey
Rating – 4.5 Stars
I received a free copy of this book.
This post contains affiliate links.
A world of magic is only a whisper away…
Born in a Soviet prison camp, Lina has never seen the world outside until the night she escapes with her best friend, Bogdan. As the pair journey across a snowy wilderness, they are pursued by a vengeful sorceress and her pack of shadow wolves. The children will need every ounce of courage – and a whisper of magic – if they are to survive…
Eleven-year-old Lina was born inside a Soviet prison camp where she lives with all the other inmates and her mother Katya. One night she is approached by a trio of older male inmates who tell her that her mother said she could help them.
They have a plan to escape the prison but the camp is situated in the Siberian wilderness about three weeks from civilisation. They need food to survive the journey and that is where Lina comes in. She works in the greenhouses growing food. If she can get the food, they will make sure that she escapes with them and her mother, who is set to cause a distraction so they can leave, will join them later in their journey.
The plan is to cross the wilderness without being caught and then Lina will find her Grandmother who will reward the men for her safekeeping. As they set to escape Lina's best friend Bogdan joins them, determined not to let Lina go alone.
Siberia isn't just frozen and cold, the group has to deal with hunger due to what little supply they have and the shadow wolves and the sorceress who doesn't understand why her pack of wolves want to stay away from Lina. And what is the strange necklace that Lina is wearing that changes temperature depending on the situation?
Nevertell is a magical tale of one girl's fight for survival. Lina hasn't had the best start to life, growing up behind the fence of the Soviet prison after her mum, uncle and grandfather were arrest before she was born. Her grandfather and uncle have both since died leaving just her and her mum to survive the harsh prison regime.
Crossing Siberia is dangerous, not only due to the snow, wind, frozen ground, the guards looking for them but also because of all the folk-tales about the ghostly activity that goes on and the men she is travelling with are not to be trusted.
The book is so beautiful and different. You can sense how harsh the weather in Siberia is and what the group has to walk through to make it to safety. The book is exceptionally atmospheric and I flew through the pages.
There are some magical aspects to the book too that will entice readers to keep on reading. The book is more than just cold and magic though it is about friendship and the lengths that Lina and Bogden will go to help one another as well as a journey of self-discovery for Lina.
Book Reviewer – Stacey
---
Purchase online from:
---
About the Author

I always knew I wanted to write books – but I mostly kept it to myself. That way no one could tell me I couldn't and somehow make it true. Years later it looks like my plan paid off. Nevertell came out with Walker Books in November 2019 and I'm working on another. Woo!
While I plotted and planned about being an author, I did other things. From working at children's publisher Barefoot Books in Bath, to being a copywriter, to working and teaching in a stained glass shop and, later, leaving to look after my young family. I was born in London and now live in Bristol.




---
What did you think of Nevertell? Share your thoughts in the comment section below!
---
The above links are affiliate links. I receive a very small percentage from each item you purchase via these link, which is at no extra cost to you. If you are thinking about purchasing the book, please think about using one of the links. All money received goes back into the blog and helps to keep it running. Thank you.
Like us on Facebook – Tweet us on Twitter – Pin us on Pinterest