Lucky by Sam Reed & Jenni Gold – Book Review
Lucky by Sam Reed & Jenni Gold – Book Review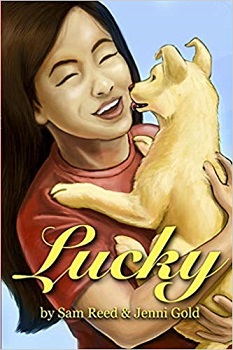 Lucky
Author – Sam Reed & Jenni Gold
Publisher – LillyBeth Press
Pages – 68
Released – 18th December 2019
ISBN-13 – 978-0999067710
Format – ebook, paperback
Review by – Stacey
Rating – 4 Stars
I received a free copy of this book.
This post contains affiliate links.
Lucky is the story of Abbey, a young girl who rescues a lost puppy only to discover that anyone who loves him actually becomes lucky! When a shameless businessman dognaps Abbey's beloved pet for his own gain, Abbey and her family must drop everything to search for him, as Lucky embarks on an adventure of his own as he tries to find his way home! This fun-filled fully illustrated chapter book is perfect for boys and girls of all ages, but particularly great for early readers aged 4-7.
Inspired by previous Muscular Dystrophy ambassador Abbey Umali, Lucky is the story of hope, perseverance, and most importantly love. Based on the screenplay by Samuel W. Reed and director Jenni Gold, Lucky is sure to find a sweet spot for audiences young and old!

Eleven-year-old Abbey McDougal is an only child. She longed for a companion, someone to play with when she is home from school and someone to help her on her lemonade stand. One day whilst serving lemonade she hears a whimpering and sets off to find out where it is coming from.
Abbey discovers the noise is coming from a drain, inside is a stuck puppy.. After the fire brigade manages to release the puppy, they ask Abbey if she would like to keep him as it looks like he doesn't have an owner. Her parents agree and because of what happened to him she calls him Lucky.
Turns out that Lucky actually lives up to his name. Everyone, including Abbey who is kind, to him becomes Lucky which catches the eye of ruthless businessman, Junior and his henchman Bob who steal Lucky hoping that he will become lucky for them. Will Lucky bring luck to people who have stolen him and can he find his way back to his owner Abbey?
Lucky is a very sweet children's book featuring a lovable pup. Everyone seems to love him and in turn, he brings good luck to those around him. It was wonderful to see the interaction between Lucky and Abbey and how much Abbey loves him.
The book is filled with amazing artwork that brings the story to life and you get to see how adorable Lucky really is. When the bad men take him you hope that he won't be lucky for them and that he can get home again, although I'm not sure how many young children (especially outside of the USA) will understand why the men took Lucky to Las Vegas and what the place represents.
Overall it is a sweet book that has a gorgeous dog helping out lots of people including a magician, florist, and an artist. It was also lovely to see a story contain a plotline about giving back to the people who helped them – namely the fire service in this instance.
Book Reviewer – Stacey
---
Purchase online from:
---
About the Authors
Jenni Gold is a multiple award-winning writer, director, and film producer whose groundbreaking documentary "CinemAbility: the Art of Inclusion" (Marlee Matlin, Jamie Foxx, Ben Affleck, & more) investigates Hollywood portrayals of disability, and the social impact of those depictions. Diagnosed with Muscular Dystrophy at an early age, Jenni has been a lifelong advocate for people with disabilities, and her work both onscreen and off has been lauded for its' honesty and thoughtfulness.
Samuel W. Reed is a novelist and filmmaker best known for his work on "CinemAbility: the Art of Inclusion," as researcher, writer, and co-producer. Sam contributed narration to the SXSW award-winning documentary "Take Me To The River" (Terrance Howard, Snoop Dogg) and has ghostwritten projects distributed by Sony Pictures Entertainment.



---
What did you think of Lucky? Share your thoughts in the comment section below!
---
The above links are affiliate links. I receive a very small percentage from each item you purchase via these link, which is at no extra cost to you. If you are thinking about purchasing the book, please think about using one of the links. All money received goes back into the blog and helps to keep it running. Thank you.