Where's Wally? Spooky Spotlight Search by Martin Handford – Book Review
Where's Wally? Spooky Spotlight Search by Martin Handford – Book Review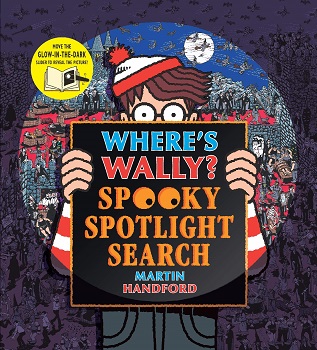 Where's Wally? Spooky Spotlight Search
Author – Martin Handford
Publisher – Walker Books
Pages – 156
Released – 3rd September 2020
ISBN-13 – 978-1406384475
Format – hardcover
Review by – Stacey
Rating – 4 Stars
I received a free copy of this book.
This post contains affiliate links.


The spotlight search is back! Use the paper spotlight searcher as a magic torch to illuminate the six spooky scenes in this book. With bonus games on every page!
Join Wally and his friends as they set sail on a ghostly galleon, wander through treacherous lands and seek shelter in a haunted castle in this spooky search-and-find adventure. With six scenes to send shivers down your spine and extra activities on every page – it's frightful! Includes a search wand and an extra glow-in-the-dark game! No batteries necessary. All light-up magic is designed from paper, and extra spotlight search wands are available to print online.

In the latest Where's Wally? book the illustrations are dark and are printed on a special plastic so that you have to use the spotlight wand to find the characters, including Wally.
The book consists of six different illustrations that you need to use the wand for (located inside the front cover). You need to find the items that are written on the left-hand side of the double-page. As well as a checklist there are also tasks such as 'find the skull that isn't repeated' or 'find which snake will get you out of the maze'.
The spotlight wand has two ends that you can use, a wide spotlight or a narrow spotlight if you want to make your search more difficult.
The book is a lot of fun and having the wand made searching for Wally and his friends all the more exciting, though with it only being six different illustrations there isn't a great deal to find so it is a quick book but I'm sure kids will love going over illustrations finding people more than once.
Overall, good fun for children and Where's Wally? lovers especially at this time of year.
Book Reviewer – Stacey
---
Purchase online from:
---
About the Author
Martin Handford, the man behind the mind-boggling Where's Wally books, began his career as a freelance illustrator specialising in drawing crowd scenes. The turning point came when he was asked to create a book showcasing his impressive talent, and the character Wally was born — originally to provide a link between each scene.
"I can't tell you how pleased I am that Wally has taken on a life of his own," Martin Handford says. "I'd like to inspire children to open their minds to explore subjects more, to be aware of what's going on around them. I'd like them to see wonder in places that may not have occurred to them." Martin Handford lives in England.

---
What did you think of Where's Wally? Spooky Spotlight Search? Share your thoughts in the comment section below!
---
The above links are affiliate links. I receive a very small percentage from each item you purchase via these link, which is at no extra cost to you. If you are thinking about purchasing the book, please think about using one of the links. All money received goes back into the blog and helps to keep it running. Thank you.
Like us on Facebook – Tweet us on Twitter – Pin us on Pinterest