City Kitties by Rizwan Asad – Book Review
City Kitties by Rizwan Asad – Book Review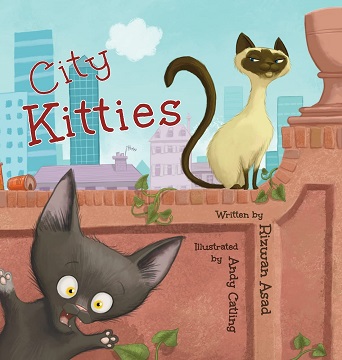 City Kitties
Author – Rizwan Asad
Illustrator – Andy Catling
Publisher – Ness House Press
Release Date – 30th November 2021
Pages – 24
ISBN 13 – 978-1777875732
Format – ebook, Paperback, Harcover, Audio
Star Rating – 4
I received a free copy of this book.
This post contains affiliate links.

Synopsis
When naughty little Mitten asks Nessie why she never falls for his tricks, Nessie answers with a tale of experience.
She's "been there, done that!"
Told in gentle rhymes, City Kitties is more than a story about knowing the value of experience. It's about knowing which experiences are truly valuable.
City Kitties is a highly illustrated children's picture book featuring a Siamese Cat called Nessie and a Kitten called Mitten. Mitten likes to play tricks but they never work on Nessie and he wants to know why, so she tells him she has seen so much of the world that, she's "been there, done that! Mitten wants to know more and so Nessie sets out a tale about her life.
The first thing that as an adult I thought was how many thousands of years old is this cat? But then young children most likely won't think like that, they will just enjoy the tales from Egypt, Thailand, England, etc.
The story is told in a soft rhyming style that unfortunately is hit and miss. Parts do work and then you get to sections that just don't and it disturbs the flow of the narrative which means you have to stop and get yourself back into the swing of things again. I also feel that there is too much text for a children's picture book, as most contain just a couple of lines from the story per page for this age group but most pages in this book were between eight and ten lines, there is a danger that the child will get fed up with the story or unable to read it in one sitting.
Overall, it is a sweet book that is filled with full-page bright and colourful illustrations and will have the reader travelling through history and around the world. For any cat-loving child, this book will be very appealing and enjoyable.
---
Purchase Online:
Rizwan Asad

Rizwan is a Toronto-based author of speculative fiction. Fantasy is kinda his thing, but every so often he feels like he's sleeping too well, and begins work on a horror story.
Aside from writing fiction, he is the creator behind Chocolates & Chai, his award-nominated food blog.
Author Links:
---
The above links are affiliate links. I receive a very small percentage from each item you purchase via these links, which is at no extra cost to you. If you are thinking about purchasing the book, please think about using one of the links. All money received goes back into the blog and helps to keep it running. Thank you.