Kiss the Crocodile by Sean Taylor – Book Review
Kiss the Crocodile by Sean Taylor – Book Review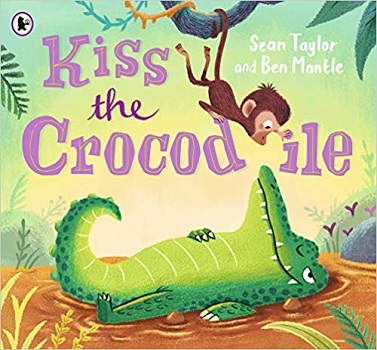 Kiss the Crocodile
Author – Sean Taylor
Illustrator – Ben Mantle
Publisher – Walker Books
Pages – 32
Released – 7th February 2019
ISBN-13 – 978-1406387926
Format – paperback, hardcover
Reviewer – Xander
Rating – 4 Stars
I received a free copy of this book.
This post contains affiliate links.
A story which introduces a brand-new GAME … a game all little monkeys, tortoises and anteaters will want to play!
Down in the jungle, three best friends – Monkey, Tortoise and Anteater – are playing silly games together. After Stick Splash, Scary Monsters and Silly Dancing, they spy Little Crocodile and his big crocodile mum in the swamp. Do they want to play a new game, Little Crocodile asks … a DARING game. KISS THE CROCODILE! Who will be brave enough to steal a peck from the 'sleeping' croc, with his big tail, pointy teeth and sharp claws? MWAH!
Brimming over with the thrill of friendship and play, this hilarious new story from the author of Hoot Owl, Master of Disguise demands to be re-enacted, and is the perfect match for the animated, visually-rich artwork of Ben Mantle, illustrator of Follow the Track All the Way Back.
Kiss the crocodile is a lovely book all about teaching children that just because someone may look different or not very pretty doesn't mean they are a horrible person. That the way someone (or something) looks shouldn't be all you see of them.
When a monkey, an anteater, and a tortoise find a crocodile they get scared but then Crocodile's mum suggests they play a game of 'Kiss the Crocodile' where the three friends have to sneak up on Crocodile and kiss him without waking him up. Not wanting to seem scared they each decide to play. The friends have so much fun and they realise that scary looking Crocodile with his big teeth is actually pretty friendly. Soon the three friends become four friends.
This would make a great read for a young child of around three-four-years-old just as they are starting to learn about friendships. It is also interactive and I can see little children following the friends in the games they play, especially the dancing.
The illustrations emphasise the meaning behind the book and are full-page, bright and colourful and the animals' faces are so funny throughout. The font was also a good size and this book would be useful for those just learning to read as there are only a few words on each page.
Overall, the book was enjoyable and fun and I can see little children asking for it to be read over and over again.
Reviewed by Xander
---
Purchase online from:
---
About the Author

Sean Taylor is an award-winning author of more than 50 books for young readers. His picture books include 'Hoot Owl, Master of Disguise', 'It's A Groovy World. Alfredo', 'Robot Rumpus', 'The World Champion of Staying Awake', 'When a Monster is Born' and 'Crocodiles are the Best Animals of All.'
For 6 – 10 year olds he has published 'Where The Bugaboo Lives!', the 'Purple Class' series of comic adventures set in an urban primary school, and a collection of folktales from the Amazon called 'The Great Snake'. His novel for teenagers 'A Waste of Good Paper' was longlisted for the Carnegie Medal.
Sean and his family have spent spells living in England (where he was born) and Brazil (where his wife is from).




---
The above links are affiliate links. I receive a very small percentage from each item you purchase via these link, which is at no extra cost to you. If you are thinking about purchasing the book via Amazon, please think about using one of the links. All money received goes back into the blog and helps to keep it running. Thank you.
Blog posts straight to email via Bloglovin – Like us on Facebook – Follow us on Twitter