Home in the Rain by Bob Graham – Book Review
Home in the Rain by Bob Graham – Book Review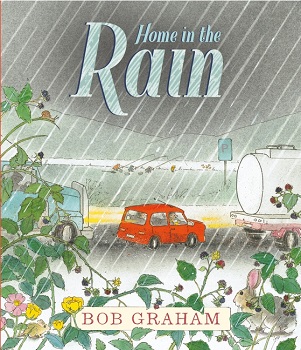 Home in the Rain
Author – Bob Graham
Publisher – Walker Books
Pages – 32
Released – 3rd January 2019
ISBN-13 – 978-1406379785
Format – paperback, hardcover
Reviewer – Xander
Rating – 4.5 Stars
I received a free copy of this book.
This post contains affiliate links.
The extraordinary touches a seemingly ordinary moment of family life, in this tender, heart-warming story from the award-winning Bob Graham.
From multi-award winning author-illustrator Bob Graham comes a tender, touching story of family life, perfect for sharing when a new baby is on the way. Francie and her mum, who is expecting a baby girl, are driving home from Grandma's in the heavy rain. When they're still far from home, they stop for a picnic. And as the car steams up, Francie presses her little finger on the window, spelling out "Daddy" and "Mummy" and leaving one space free, ready and waiting for the name of her soon-to-be sister…
A beautifully observed celebration of the way inspiration can, and often does happen in the most ordinary and unlikely of places.
Home in the Rain is about a little girl and her pregnant mum travelling back home from their grandma's house in the family car as it is absolutely pouring down with rain.
Grandma lived far away so they had to stop for something to eat on their way home. As they were eating the car windows begin to steam up, the little girl started writing their names on the windows and wanted to know what her little sister would be called but they couldn't think of a good name.
I would say that this would make a lovely story for someone below the age of six with a little sister because it shows how just a simple car journey home could affect someone forever. I think the illustrations are a big part in painting the picture of this story and that the text is just right, though there are lots of words on each page so the book is best to be read by a grown up to a child unless they can fluently read by themselves.
It is a very sweet book that contains a beautiful, loving story and looks just as good on the inside too. It is a story that will stay with you after you close the final page. It goes to show how the little things in life can mean a lot.
Reviewed by Xander
---
Purchase online from:
---
About the Author
Bob Graham is a Kate Greenaway-winning author-illustrator who has written and illustrated many acclaimed children's picture books including The Poesy Ring, How to Heal a Broken Wing, How the Sun Got to Coco's House, Max, Jethro Byrde: Fairy Child and April Underhill: Tooth Fairy.
His 2011 title, A Bus Called Heaven, is endorsed by Amnesty International UK and was the winner of the 2012 Children's Book Council of Australia Picture Book of the Year Award – a prize Bob has won an unprecedented seven times.
He has been awarded the prestigious Prime Minister's Literary Award in Australia twice, in 2014 for Silver Buttons and in 2017 for Home in the Rain. Bob lives in Melbourne.

---
The above links are affiliate links. I receive a very small percentage from each item you purchase via these link, which is at no extra cost to you. If you are thinking about purchasing the book via Amazon, please think about using one of the links. All money received goes back into the blog and helps to keep it running. Thank you.
Blog posts straight to email via Bloglovin – Like us on Facebook – Follow us on Twitter