Solve Your Own Mystery by Gareth P. Jones – Book Review
Solve Your Own Mystery by Gareth P. Jones – Book Review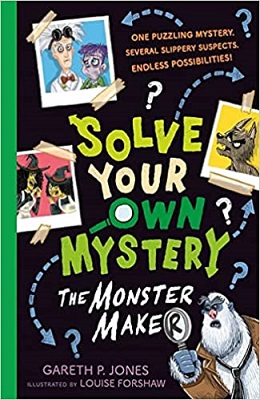 Solve Your Own Mystery
The Monster Maker
Author – Gareth P. Jones
Illustrator – Louise Forshaw
Publisher – Little Tiger Press
Pages – 224
Released – 5th August 2021
ISBN-13 – 978-1788953115
Format – paperback
Rating – 4 Stars
I received a free copy of this book.
This post contains affiliate links.


Synopsis
One puzzling mystery. Several slippery suspects. Endless possibilities!
Welcome to Haventry, a town where the ordinary and extraordinary collide! With ghosts, werewolves and zombies living side by side, trouble is always brewing. And when a fiendish crime is committed, YOU are the detective in charge of the case.
Dr Franklefink's precious Monster Maker has gone missing and there are lots of suspects! Along with your yeti partner, it's up to YOU to find the culprit. Should you trail Bramwell Stoker, the terrifying vampire, or Grundle and Grinola, the mischievous goblin Twins? Should you follow up a lead about the cunning witches? Or will investigating the doctor's monstrous son Monty lead you to the thief? YOU decide!
With hundreds of paths to choose from and no dead ends, you'll solve the mystery every time!
A fantastically imaginative detective story for readers looking for an interactive adventure..
Solve Your Own Mystery: The Monster Maker made me feel very nostalgic. When I was a kid I loved the choose your own adventure books and this is just like those.
You are the main character in the book as it is written in the second person and you start with an opening mystery, in this case, Dr Franklefink's precious Monster Maker has gone missing on the day he was having a birthday party so there are lots of suspects. At the end of a section of the story, you are offered two choices of what to do next, such as checking the crime scene or interviewing the party-goers.
By choosing your own path you make your own story and see if you can work out who the culprit is.
The book was good fun and had a wonderful story. It is filled with ghosts, ghouls, and monsters and together with an exciting plot, I can see children adoring this book. I loved making my way through the book, back and forth as I decided which way I wanted the plot to go.
I haven't seen a book like this since I was a child (80s) and going off how popular they were back then and how different they are, I can see this book being a big hit. The perfect story for middle-graders, especially as they play a part in the story too.
Purchase Online From:
---
What did you think of 'Solve Your Own Mystery'? Share your thoughts in the comment section below!
---
The above links are affiliate links. I receive a very small percentage from each item you purchase via these links, which is at no extra cost to you. If you are thinking about purchasing the book, please think about using one of the links. All money received goes back into the blog and helps to keep it running. Thank you.
Like us on Facebook – Tweet us on Twitter – Pin us on Pinterest – Join us on Instagram