Grumpy Duck by Joyce Dunbar – Book Review
Grumpy Duck by Joyce Dunbar – Book Review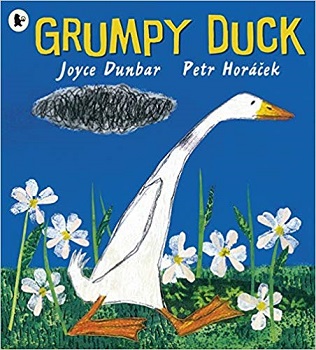 Grumpy Duck
Author – Joyce Dunbar
Illustrator – Petr Horacek
Publisher – Walker Books
Pages – 32
Released – 4th July 2019
ISBN-13 – 978-1406382969
Format – paperback, hardcover
Reviewer – Stacey
Rating – 4 Stars
I received a free copy of this book.
This post contains affiliate links.
Can anyone cheer up Grumpy Duck? A funny farmyard tale illustrated by the award-winning Petr Horacek.
Duck is grumpy. The pond is dry and, even worse, there's a grey cloud following her around. Can any of Duck's friends cheer her up? A funny farmyard tale about friendship from Joyce Dunbar, illustrated by award-winning artist Petr Horacek with his trademark colourful flair.

Duck was grumpy. Her pond had dried up so she had nowhere to paddle and now a grey cloud had appeared overhead. She had no-one to play with so she sought out her friends but she didn't want to do what they were doing and so the grey cloud grew and grew until it grew so big it covered the whole sky and then it turned black.
Oh no, the cloud was a grumpy duck cloud!
Grumpy Duck is a lovely young children's book about a duck that is feeling a little grumpy. One by one she visits her friends but she doesn't want to dig holes with dog or eat clothes with Goat, she wants to paddle. The more people she visits the moodier she becomes.
I love the full-page illustrations that show all the animals perfectly and of course shows duck getting grumpier and grumpier. I was expecting the book to take a different direction than what it did but it still worked perfectly.
The text is kept to a minimum and certain words are emphasised such as the words enormous and ginormous to show what they mean. Grumpy Duck is a lovely book and one that hopefully will help a child when they are feeling moody or grumpy too.
Book Reviewer – Stacey
---
Purchase online from:
---
About the Author

Joyce Dunbar spent several years teaching literature to adults. Then, at the age of thirty-five, she decided to fulfil her childhood dream of writing and hasn't looked back. She has had several books published by Walker Books including Baby Bird, Gander's Pond, Panda's New Toy, The Secret Friend, Shoe Baby and Tutti Frutti. Joyce lives in Norwich.


---
What did you think of the book? Share your thoughts in the comment section below!
---
The above links are affiliate links. I receive a very small percentage from each item you purchase via these link, which is at no extra cost to you. If you are thinking about purchasing the book, please think about using one of the links. All money received goes back into the blog and helps to keep it running. Thank you.