Let's Go to the Seaside! by Caryl Hart – Book Review
Let's Go to the Seaside! by Caryl Hart – Book Review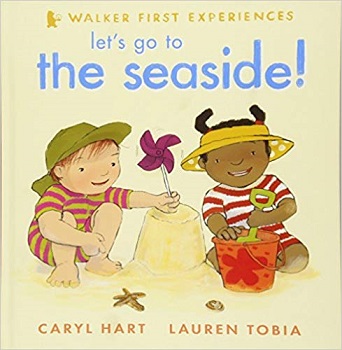 Let's Go to the Seaside!
Author – Caryl Hart
Illustrator – Lauren Tobia
Publisher – Walker Books
Pages – 32
Released – 4th July 2019
ISBN-13 – 978-1406383591
Format – paperback, hardcover
Reviewer – Stacey
Rating – 5 Stars
I received a free copy of this book.
This post contains affiliate links.
Bare toes scrunch in crunchy sand, children run and play. Look, it's Bee and Billy… They're on the beach today!
Join friends Billy and Bee in the third instalment of a brand-new "First Experiences" series set in the urban city centre. Today let's go to … the seaside! They're building sandcastles, watching kites fly up high, eating ice cream and – for the very first time – feeling the splash of the sea and the crunch of the sand between their toes…
A gorgeously illustrated, bouncy celebration of the seaside experience, perfect for reading with a toddler before (and during!) a trip to the beach.

Let's Go to the Seaside! is the third book in the "First Experiences" series from Caryl Hart and Walker books, the first book was called 'Let's Go to Nursery!' and introduced us to the characters of Bee and Billy. The second book was called 'Let's Go to the Farm!'.
In this third book, the two friends are visiting the seaside and having fun on the beach. They eat ice cream, paddle in the sea and build sandcastles. The two friends are having so much fun that they don't want to go home.
This is an adorable book for little children and complements the series perfectly with its rhyming text and beautiful full-page illustrations that children won't be able to take their eyes off. All the books in the series have been so sweet and lovely and feature the children doing activities that all little children do at some point.
The beach is a magical place for toddlers and most find it truly fascinating, I just wish my children kept that excitement about the beach, now teenagers they hate it.
I can see Let's Go to the Seaside wanting to be read over and over again.
Book Reviewer – Stacey
---
Purchase online from:
---
About the Author

Caryl Hart is a full-time children's writer who also runs creative workshops with local schools. Her first picture book, Don't Dip Your Chips in Your Drink, Kate!, won two regional awards in England, and is short-listed for a third. She lives in England with her guitar-playing husband, two cheeky daughters, one extremely fluffy black cat, a goldfish, four hens, and a dog named Roo.
As well as writing, Caryl Hart loves walking in the hills, swimming, snuggling, baking, weeding, running, sleeping, chatting, and sitting in cafés.



---
What did you think of the book? Share your thoughts in the comment section below!
---
The above links are affiliate links. I receive a very small percentage from each item you purchase via these link, which is at no extra cost to you. If you are thinking about purchasing the book, please think about using one of the links. All money received goes back into the blog and helps to keep it running. Thank you.