A Witch's Kitchen by Dianna Sanchez – Book Review
A Witch's Kitchen by Diana Sanchez – Book Review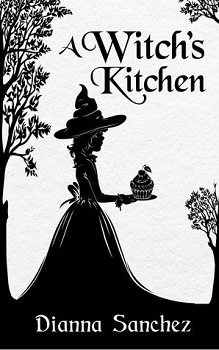 A Witch's Kitchen
Author – Dianna Sanchez
Publisher – Dreaming Robot Press
Pages – 248
Release Date – 20th September 2016
ISBN 13 – 978-1940924182
Format – ebook, paperback
Reviewer – Jodie
I received a free copy of this book
Post Contains Affiliate Links

Millie's a witch, so why can't she do magic?
Despite her mother's best efforts to teach her, every spell Millie tries goes horribly wrong, but she's a fabulous cook. When Millie conjures chocolate sauce instead of a transformation potion, her mother gives up and sends her to the Enchanted Forest School, where she's bullied by goblins, snubbed by an elf, and has her hat stolen. Even as Millie's magical talent begins to develop, turning her house ghost into a frog and accidentally charming her entire class, Millie starts to wonder: what if she's not a witch at all? To find out, she and her new friends embark on a dangerous quest to find Millie's father in the Logical Realm, in contemporary Salem, MA.
Deep in a fantasy realm adjacent to our own, the Enchanted Forest School is located in the branches of an enormous oak tree and has a dragon for a headmistress. Millie's initial delight in attending school rapidly fades as she struggles in the unfamiliar social environment, encountering fellow students of magical races, making new friends, and discovering that her mother's style of magic isn't the only one available.

Millie thinks she's a useless witch who can't do proper magic. She isn't like the other witches in her family, much to their annoyance. She can't grow any warts, her hair won't tangle, and every time she attempts to do magic, she turns an object into food instead. But with the right help and guidance at school, Millie learns that she truly is a witch (and an amazing cook) whose powers have been quashed by her family. Whilst at school Millie begins to learn more about herself, and her past. The more she discovers, the more she realises that she does have a talent, and becomes a better witch for it.
Millie doesn't get on with her mother, Bogdana. She resents her mother for not letting her do things and for holding her back in life. We also see the other side of the coin in that Bogdana does things for reasons of protecting Millie. Although she can be spiteful, Bogdana loves Millie in her own, albeit strange, way.
Managing to escape her life at home, Millie is enrolled at the Enchanted Forest School at the suggestion of her wise grandmother, Baba Luci. There she makes new friends from all species of magic, including pixies. She forms bonds and has them tested through misunderstandings, just as can happen in real life.
Embarking on a quest to learn more about her father, Millie decides to visit the Logical Realm. She uncovers the truth that her mother has kept hidden from her for a very long time and her eyes are opened to what lay ahead.
I'm not usually a fan of fantasy books, apart from the Harry Potter series, and when I was a child I loved reading The Worst Witch stories. Like Harry Potter, there are so many real life and relatable themes in the story, it makes the fantasy realm come to life for the reader in A Witch's Kitchen.
Although this is a children's book, I still enjoyed it. The fantasy setting and characters came alive in my head due to the wonderful descriptions by the author. I loved Quercius the Caretaker, an all-seeing-all-knowing tree at the school. He hears everything that is said, or even whispered, and nothing gets past the headmistress – a dragon named Pteria, much to the frustration of Millie's horrible cousin, Cretacia.
Despite the story being set in a magical realm, it has plenty of real life elements in it: growing up, friendships, bullies at school, wanting to fit it, self-doubt, split families, etc. I think a lot of children could relate to at least one of the themes running through the book.
The names of the characters are wonderfully descriptive. When I read about Cretacia I automatically thought 'cretin' which I soon discovered was rather true of her character, as she's a nasty little witch who wants nothing better than to make Millie's life miserable.
A Witch's Kitchen really captures the imagination and I'm sure children will love it.
Book Reviewed by Jodie
Purchase Links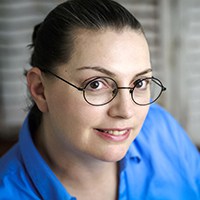 Dianna Sanchez is the not-so-secret identity of Jenise Aminoff, whose superpower is cooking with small children. She is an MIT alumna, graduate of the 1995 Clarion Workshop and Odyssey Online, active member of SCBWI, and former editor at New Myths magazine.
Aside from 18 years as a technical and science writer, she has taught science in Boston Public Schools, developed curricula for STEM education, and taught Preschool Chef, a cooking class for children ages 3-5.
A Latina geek originally from New Mexico, she now lives in the Boston area with her husband and two daughters.
Author Links