Bloodwalker by L.X. Cain – Book Review
Bloodwalker by L.X. Cain – Book Review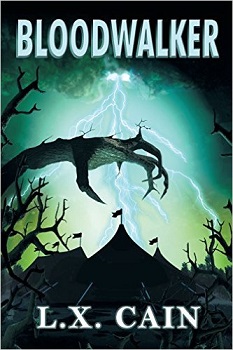 Bloodwalker
Author – L.X. Cain
Publisher – Freedom Fox Press
Pages – 284
Release Date – 4th October 2016
ISBN-13 – 978-1939844255
Format – ebook, paperback, audio
Reviewer – Stacey
I received a free copy of this book
Post Contains Affiliate Links

When Zorka Circus performs, its big top roars with laughter and cheers, but when it moves on, children vanish from the European towns it leaves behind.
Circus Security Chief Rurik suspects a killer hides among the international performers, but they close ranks–they've always viewed lightning-scarred Rurik as the monster. Nevertheless, he's determined to find the culprit and stop them before anyone else dies and the only place he can call home is ripped apart by the murders.
Into Zorka Circus comes the Skomori clan, despised as gravediggers and ghoulish bloodwalkers. A one-day truce allows bloodwalker Sylvie to marry. Instead, she finds a body. Alerting others will defy her clan's strict rules, break the truce, and leave her an outcast.
When more bodies turn up, the killer's trail becomes impossible to ignore. Rurik and Sylvie must follow the clues–even if they lead to something unimaginable.

Zorka Cyrka, (Travelling Circus), travels through eastern Europe, bringing joy to the townsfolk that they visit. That is, until they leave, and the children of the town go missing.
Rurik is a former member of the circus. With his strong man act, he is now their security chief. After noticing what is happening to the children after every town they have visited, he sets out on a mission to discover who the suspected killer is, in their midst.
Sylvie is a young Skomori, she cares for the dead – although she isn't very good at her job.
The Skomori clan and the Zorka do not get along, but after an arranged marriage has been made between the two, they call for a one-day truce. Sylvie is the bride to be, but after she discovers a body, she has a big dilemma about what to do, with a decision that will bring no good outcome for her.
Bloodwalker is a fascinating book. It engages the reader and places you slap bang in the middle of the story. You are tantalised with the mysterious circumstances, and whilst some details may not sit comfortably with some people, I found it hard to put down.
The alternating chapters between Rurik and Sylvie, really let you feel what each of them was going through, and you get to stand in their shoes, see and hear what they hear, and be there for their discoveries into the murders. There is also a large cast, but this works really well in this book, not something a lot of books can get away with.
Bloodwalker isn't something I would normally have chosen to read, but I am so glad that I did, as it had me on the edge of my seat at times, and entertained me from beginning to end.
Book Reviewed by Stacey
Purchase Links


I'm a Thriller/Horror writer, author of novel SOUL CUTTER (YA Horror/Romance), of BLOODWALKER, and of short stories "Biggun," "The Mission," and "The Inter-Galactic Gourmet."
More Thriller novels coming soon!
I've lived in Egypt for 20 yrs. Read my Egypt Pages on my blog for info about the Land of the Pharaohs.
Author Links