Peace with Bees by Nadh Poduri – Book Review
Peace with Bees by Nadh Poduri – Book Review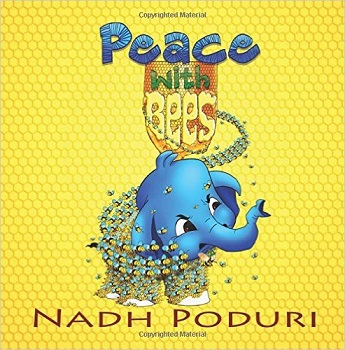 Peace with Bees


Silly Elephant Volume Two
Author – Nadh Poduri
Publisher – CreateSpace
Pages – 40
ISBN-13 – 978-1537411323
Release Date – 9th September 2016
Format – ebook, paperback
Reviewer – Stacey
I received a free copy of this book
Post Contains Affiliate Links

Peace with Bees is a story about a silly elephant (Ephan) who loves honey. After Barney steals honey from Ephan, he thinks it is ok to steal honey from the bees despite Sid warning him. Later, the bees found out that someone stole their honey; they follow the footprints to catch Ephan. Ephan learns the consequences of stealing. He returns the honey to the bees. Ephan understands the importance of boundaries and learns to respect everyone (no matter how small they are).

Ephan is a young, silly elephant, who likes to do daft things. He is also addicted to honey. He puts it on everything, including eating 100 pancakes with it on. He also drinks it.
Whilst at the beach with his friends Sid, Jilly and Billy, Ephan has his honey stolen by bully, Barney. Distraught, Ephan's friends try to cheer him up, but whilst doing so Ephan notices a bee hive. With temptation too strong, he can't resist taking the bee's honey, even against Sid's warnings. But when the bee's return home, they are mad and want to find the honey thief.
What will happen to poor little Ephan if the bee's discover it was him who stole the honey?
Silly Elephant – Peace with Bees, is a young children's book about learning what's right and wrong. Ephan thinks that because someone stole his honey, that it is okay to steal someone else's. He has a very sensible friend in Sid who tries to teach him that two wrongs don't make a right, and that stealing is still stealing, even if someone has done it to you first.
Ephan learns a valuable lesson in life, that stealing is bad and that it hurts people, and bees. He also learns that it takes a brave person to admit that they were wrong, and to wholeheartedly say sorry, and to try to make things right.
Peace with Bees is a sweet book with a good life's lesson in it. I would though have loved to have seen some illustrations throughout. This would have really brought the story to life.
Book Reviewed by Stacey
Purchase Links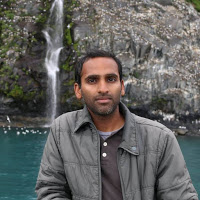 Nadh Poduri grew up in a southern part of India. He is a programmer, loves to develop games for kids. While he was growing up in India, he used to visit elephant national park to study about elephants. His fascination towards elephants drove him to write his first picture book 'Silly Elephant.
Nadh lives with his wife and two kids in San Francisco.
Author Links