The Invisible by Tom Percival – Book Review
The Invisible by Tom Percival – Book Review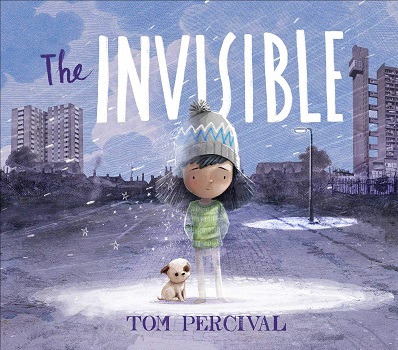 The Invisible
Author – Tom Percival
Publisher – Simon & Schuster Children's UK
Pages – 32
Released – 4th February 2021
ISBN-13 – 978-1471191305
Format – ebook, paperback, hardcover
Rating –
I received a free copy of this book.
This post contains affiliate links.


Synopsis
A moving, powerful story that shines a light on those that feel invisible in our world – and shows us that we ALL belong – from the author of Ruby's Worry.
The Invisible is the story of a young girl called Isabel and her family. They don't have much, but they have what they need to get by. Until one day, there isn't enough money to pay their rent and bills and they have to leave their home full of happy memories and move to the other side of the city.
It is the story of a girl who goes on to make one of the hardest things anyone can ever make…a difference.
And it is the story of those who are overlooked in our society – who are made to feel invisible – and why everyone has a place here. We all belong.
If you only purchase one children's book this year, make it this one. The story contains a life lesson every child should learn. It is the tale of how a young child whose family is very poor and has lost their home, notices that because she now lives on a council estate no-one sees her as a person anymore. It is also the tale of one young girl realising that something needs to change because everyone is worthy and vital not just those with money.
The book begins with little Isabel living in her family home with her mum, dad, and dog. The family didn't have much, but they had their home and each other until they could no longer pay their bills and they were moved to a high-rise block of flats on the other side of town. It is here that Isabel feels she is fading into the background, that is until she notices other people who are fading too and decides she needs to make them vibrant again.
A couple of years before I was born my parents (and siblings) were in a house fire. They lost everything and my mother had not paid that week's house insurance as she hadn't managed to get to the bank the day it was due, which happened to be the same night as the house fire and so the insurance refused to payout.
They were put into council housing. For a time they had nothing, they sat on paint pots used as chairs, etc. I was quite lucky that by the time I was born they were still in council housing but they had enough to see us girls right. However, my dad used to tell me 'never let anyone look down their nose at you and never look down your nose at anyone else. No-one is above you and no-one is below you, we all deserve to be treated equally.
This is a motto I've used throughout my entire life and I've taught my children the same. Just because someone can't afford something you have doesn't make them less of a person and just because someone has a mansion and untold wealth doesn't make them any better than you are.
Author Tom Percival has created a beautiful, poignant book that I feel emphasises these points well, as well as showing that sometimes it is the little things you do that can create a difference and that by coming together we can create a big difference. The people in the story might not have increased their monetary wealth but they increased their happiness and people deserve to be happy.
The writing is perfect and the illustrations are so beautiful, with their soft colours and heart-felt emotions on the characters. I truly loved this book. It is a wonderful children's picture book that contains a powerful message that comes across strongly.
Purchase Online From:
---
What did you think of 'The Invisible'? Share your thoughts in the comment section below!
---
The above links are affiliate links. I receive a very small percentage from each item you purchase via these link, which is at no extra cost to you. If you are thinking about purchasing the book, please think about using one of the links. All money received goes back into the blog and helps to keep it running. Thank you.
Like us on Facebook – Tweet us on Twitter – Pin us on Pinterest