The Great Fox Illusion by Justyn Edwards – Book Review
The Great Fox Illusion by Justyn Edwards – Book Review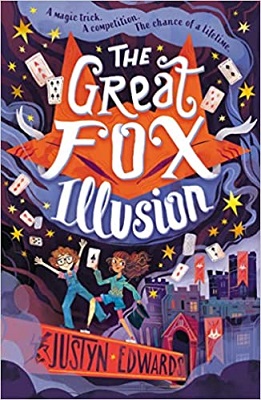 The Great Fox Illusion
Author – Justyn Edwards
Publisher – Walker Books
Release Date – 7th April 2022
Pages – 288
ISBN 13 – 978-1529501940
Format – ebook, paperback, audio
Star Rating – 5
I received a free copy of this book.
This post contains affiliate links.

Synopsis
Secrets and illusions abound as a group of young magicians competes for the prize of a lifetime in this gripping adventure, the first in an enthralling new series from debut author Justyn Edwards.
"Magic is about dreaming what is impossible and making it possible. It's the innocent young mind in all of us that loves it. We want to be filled with wonder. We want to believe. I want the winner of this competition and the recipient of my legacy to dare to dream big. So, let The Great Fox Hunt begin."
Thirteen-year-old Flick Lions has won a place on a new television show, in which young people compete to win the legacy of the Great Fox, one of the world's most famous magicians. But Flick isn't interested in uncovering the Great Fox's tired old magic tricks – she's after something much more important. The magician destroyed her family, and this is Flick's only chance to put things right. Inside the Fox's house is a secret that will change the world of magic for ever, and Flick will go to any lengths to find it.
Thirteen-year-old Felicity Lions (Flick), loves magic. She was brought up being taught tricks by her magician father. However, recently things haven't been that good for her and it is all to do with the famous magician 'The Great Fox'.
You see the recently deceased 'The Great Fox' stole a trick from her father. Her father has now disappeared – Not part of the trick, and the only way that Flick believes she can get him back is to discover the trick and prove that it was her father's and that it was stolen from him. This is on top of a recent car crash in which she lost her leg too.
Before his death, the famous magician made plans for a successor to his empire. The successor will be chosen via a TV reality game show in which young magicians compete to become his heir and win his home and all of his tricks, set inside the magician's home with hidden clues to solve. Flick believes she can win, thus giving her access to prove that The Great Fox wasn't so great after all.
The Great Fox Illusion is a magnificent book. The story is driven by one young girl and her need to bring her father back home and she will not let anything, including the loss of her leg, stop her from doing that.
Flick is a fabulous character. She is meticulous, very clever, and brave. I love the way she worked through the clues hidden in the house and her processes for finding the answers.
I'm not sure author Justyne Edwards would be very welcome at the Magic Circle given that he reveals how some illusions were performed but this makes the book more exciting. Plus, the author also opens with the message that 'This book is a trick' and that by the end of the book 'I'll have vanished' and that the reader will need to look out for the clues throughout to be able to work out how they did it, making the reader have to play along too.
The Great Fox Illusion is an exciting and adventurous book. It has an amazing and captivating plot and I truly believe that this is one new series that middle graders need to read. I'm now looking forward to book two coming out next month.
---
Purchase Online:
Justyn Edwards

Justyn Edwards graduated from Southampton University with a degree in archaeology. Since then he has worked as a caravan park attendant, a paperboy and a software engineer, but never as an archaeologist.
He has always wanted to be a writer, and his inspiration for The Great Fox Illusion came from watching magic shows. He realized that what elevates the trick a magician performs is the story that he tells his audience. And in turn, stories themselves are a kind of magic trick with the author choosing when to reveal his secrets to the reader. And so Justyn's debut novel was born.
Author Links:
---
The above links are affiliate links. I receive a very small percentage from each item you purchase via these links, which is at no extra cost to you. If you are thinking about purchasing the book, please think about using one of the links. All money received goes back into the blog and helps to keep it running. Thank you.