Mubu the Morph by Stephen Nawotniak – Book Review
Mubu the Morph by Stephen Nawotniak – Book Review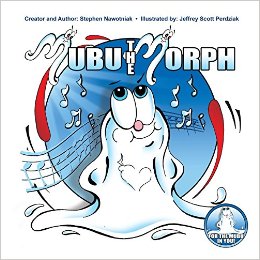 Mubu the Morph
Author – Stephen Nawotniak
Illustrator – Jeffrey Scott Perdziak
Publisher – People Ink Press
Pages – 38
Release Date – 26th June 2016
Format – ebook, paperback, audio
Reviewer – Stacey
I received a free copy of this book
Post Contains Affiliate Links

Go on a rhyming adventure with Mubu as he learns through trial and error the secret to being his best self. Vibrant colors and a playful tone amp up the fun factor in Stephen Nawotniak's engaging story that's sure to ignite the imaginations of children and adults alike.
Illustrated by Jeffrey Scott Perdziak and published by People Ink Press, Mubu the Morph is suitable for children in grades K to 3 and the people who love them.

Mubu the Morph is a young children's rhyming book about self discovery. It follows Mubu as he morphs into a fish, bird, bike and a dog, and yet doesn't seem to feel happy. He then realises that he is Mubu the Morph and not Sam, and that he is suppose to Morph – or this is the message that I picked up on, as I wasn't sure whether he was happy or sad to be a Morph.
I do understand fully what the author has tried to do with this book, however I feel that he has not delivered what he set out to do as the book is quite confusing. Children, and some adults, just won't understand it!
I read the book a few times before I understood what it was about. I then asked my 10 and 13 year old sons to read it. Once they had, I asked them to explain what the book meant – their response, it's about a Morph Morphing and doing what he is made to do, they couldn't get any other message from it.
The rhyming text flowed naturally and worked well alongside the beautifully drawn illustrations. Mubu is a fun character, one that I feel kids will connect to and love, unfortunately they will just need an adult to explain the book to them.
I'm really sorry but I can only award this book three stars.
Book Reviewed by Stacey
Purchase Links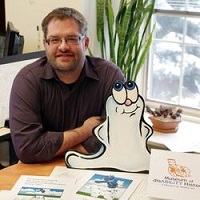 Stephen Nawotniak OTR/L has a Self Designed Masters from Buffalo State College and a Masters in Occupational Therapy from Utica College. For 8 month's he hiked, biked, sailed and canoed from Buffalo, NY to Key West, FL. He gave presentations to over 1000 youth on the values of volunteerism and education and completed over 230 hours of community service along the way.
His book, Mubu the Morph speaks to the inner journey we all face as we discover our purpose. Stephen currently lives and practices Occupational Therapy in Buffalo, NY.
Author Links