The Rock from the Sky by Jon Klassen – Book Review
The Rock from the Sky by Jon Klassen – Book Review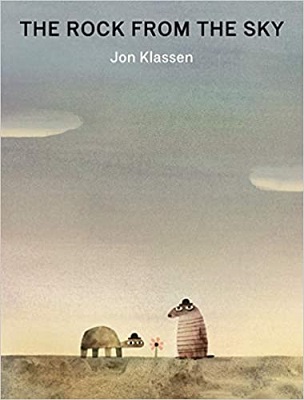 The Rock from the Sky
Author – Jon Klassen
Publisher – Walker Books
Pages – 96
Released – 13th April 2021
ISBN-13 – 978-1406395570
Format – ebook, hardcover
Rating – 4 Stars
I received a free copy of this book.
This post contains affiliate links.


Synopsis
Turtle really likes standing in his favourite spot. He likes it so much that he asks his friend Armadillo to come over and stand in it, too. But now that Armadillo is standing in that spot, he has a bad feeling about it…
A hilarious meditation on the workings of friendship, fate, shared futuristic visions, and that funny feeling you get that there's something off somewhere, but you just can't put your finger on it. Merging broad visual suspense with wry wit and existential silliness, celebrated picture-book creator Jon Klassen gives us a wholly original comedy for the ages.
The Rock from the Sky is a strange and weird children's picture book, but if you have read author Jon Klassen's work before you will understand that this is his style.
The story is split into five sections. The Rock, The Fall, The Future, The Sunset, and No More Room. It follows three animals who are kind of friends, Turtle, Armadillo, and Snake.
The illustrations are dark and gloomy, they fill most of the page, though a strip at the top is just white for the words. I love how the author uses capitals to emphasise when the animals are shouting to each other – 'Come Closer'.
I've not fully comprehended the book yet so my thoughts on it are all over the place. I like Klassen's style, how he moves away from the traditional and gives his work a touch of the unusual, with some great humour attached. As an adult I can comprehend what he is trying to achieve and laughed at numerous pages, however, I worry that a child won't have a clue what is happening which will leave them dissatisfied with the story. Personally, I thought it was a little long for a children's picture book at 96 pages.
It's not a book I can see all children enjoying but if you have a child that likes unusual reads that are dotted with humour then this would be perfect for them.
Purchase Online From:
---
---
The above links are affiliate links. I receive a very small percentage from each item you purchase via these links, which is at no extra cost to you. If you are thinking about purchasing the book, please think about using one of the links. All money received goes back into the blog and helps to keep it running. Thank you.
Like us on Facebook – Tweet us on Twitter – Pin us on Pinterest – Join us on Instagram