The Serial Killer's Wife by Alice Hunter – Book Review
The Serial Killer's Wife by Alice Hunter – Book Review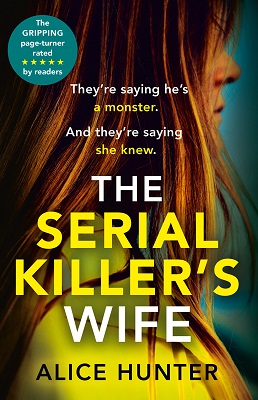 The Serial Killer's Wife
Author – Alice Hunter
Publisher – Avon
Pages – 382
Released – 27th May 2021
ISBN-13 – 978-0008414078
Format – ebook, paperback, audio
Rating – 4 Stars
I received a free copy of this book.
This post contains affiliate links.


Synopsis
Every marriage has its secrets…
Beth and Tom Hardcastle are the envy of their neighbourhood – they have the perfect marriage, the perfect house, the perfect family.
When the police knock on their door one evening, Beth panics. Tom should be back from work by now – what if he's crashed his car? She fears the worst.
But the worst is beyond imagining.
As the interrogation begins, Beth will find herself questioning everything she believed about her husband.
They're saying he's a monster. And they're saying she knew.
The Serial Killer's Wife turned out to be a different book from what I was expecting to read. I expected the book to quite gruesome as the husband picks off his victims one by one whilst his wife may or may not have known. I knew he was going to be arrested early on due to the synopsis but I thought that maybe via a series of flashbacks we would get to relive these moments, the book was far softer in the approach but it was still an amazing read.
Beth lives in a little village with her husband Tom and their young daughter Poppy. She runs the local art cafe and Poppy attends the village nursery. She thought they had the perfect life until one night Tom is late home from work and the police come knocking on her door. She expected the police to tell her there had been an accident and Tom was hurt, not that they wanted to take him in for questioning over the disappearance of his ex-girlfriend Katie.
The police charge him with murder but that isn't the end of what they charge him with. Beth has to live in this quaint village in which everyone knows her business and they can't believe she didn't know her husband was a serial killer.
The book is told from different points of view, although mainly from Beth's and set in different time periods, – Now, Then, and a few from years ago. It has short chapters and an exciting plot which kept me gripped to the pages. I actually read the book in just two sittings as it was such an easy, fast-paced read.
This is a book you need to go into with an open mind, plus the ending was a real shocker although looking back I had picked up on a few warning signs.
I did wonder as I turned the last page whether this is going to be a standalone novel or if there is to be a follow-up book. It would be amazing to continue the story and delve deeper into the couple's life. Whichever it is, The Serial Killer's Wife is a tense, atmospheric read that I enjoyed the whole way through.
Purchase Online From:
---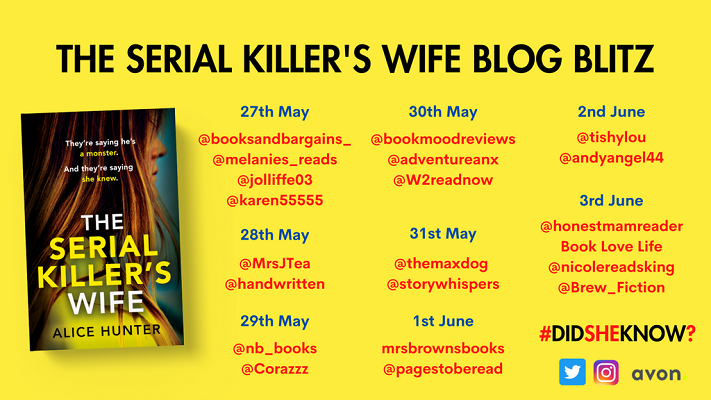 ---
What did you think of 'The Serial Killer's Wife'? Share your thoughts in the comment section below!
---
The above links are affiliate links. I receive a very small percentage from each item you purchase via these link, which is at no extra cost to you. If you are thinking about purchasing the book, please think about using one of the links. All money received goes back into the blog and helps to keep it running. Thank you.
Like us on Facebook – Tweet us on Twitter – Pin us on Pinterest – Join us on Instagram