A Boy and his Dog at the End of the World by C.A. Fletcher – Book Review
A Boy and his Dog at the End of the World by C.A. Fletcher – Book Review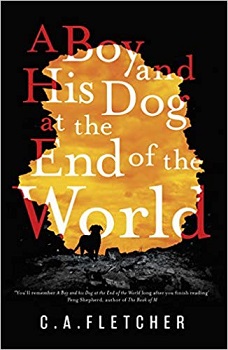 A Boy and his Dog at the End of the World
Author – C.A. Fletcher
Publisher – Orbit
Pages – 384
Released – 25th April 2019
ISBN-13 – 978-0356510910
Format – ebook, paperback, hardcover, audio
Reviewer – Stacey
Rating – 4 Stars
I received a free copy of this book.
This post contains affiliate links.
My name's Griz.
I've never been to school, I've never had friends, in my whole life I've not met enough people to play a game of football. My parents told me how crowded the world used to be, before all the people went away, but we were never lonely on our remote island. We had each other, and our dogs.
Then the thief came.
He told stories of the deserted towns and cities beyond our horizons. I liked him – until I woke to find he had stolen my dog. So I chased him out into the ruins of the world.
I just want to get my dog back, but I found more than I ever imagined was possible. More about how the world ended. More about what my family's real story is. More about what really matters.

Just as the author requested at the beginning of the book, to keep reviews spoiler free, I will give you a short introduction into the book.
Griz lives with his parents, his brother Ferg, and his sister Bar, oh and their two dogs Jip and Jess, on a remote island called Mingulay off the coast of Scotland. They are the only occupants on the island, in fact, the whole world is sparsely populated due to something called the Gelding. No-one really knows what caused the Gelding, but people stopped having children, well all but 0.0001 percent of people did.
The family rarely see any other people, so when a stranger called Brand sails up to their island they invite him in and listen to his stories of what the world is like. After eating the marmalade that Brand brought with him the family take ill and fall asleep. In the morning Griz realises that that Brand has left without a goodbye or trading any items, he soon realises it's much worse than that though, the man had stolen Griz's beloved pet dog, Jess.
Not thinking straight, Griz grabs a weapon and his dog and jumps into the families boat and chases after Brand. This is the story of what Griz learns about the world, the past and himself whilst trying to get his dog back.
A Boy and his Dog at the End of the World is a post-apocalyptic novel following Griz as he tries to rescue his dog Jess from a stranger who has stolen him. The way the world has come to have such few people is nothing new in the post-apocalyptic novel world, in fact, I read a book early this year which used infertility as to how the world was coming to an end, and Dan Brown used it in one of his books too.
The book is told from Griz's point of view as he looks back over what happened to him and what he learned on his adventure trying to get his dog back. He is mainly talking to a photograph of a boy he found in an abandoned house, but it does feel like he is talking to the reader as he mentions what it must have been like before the Gelding. Afterward, the world not only lost people it also went back in time as technology disappeared and food became sparse and people had to hunt for their food.
I don't really want to give any more away than what I have. What I will say is that the book is an adventure. There aren't many characters in it, just like there aren't many people left in the world. It has plenty of poignant moments and moments which might make you look at your own life and the world we currently live in.
A Boy and his Dog at the End of the World is extraordinary. You can tell how much heart, blood, sweat, and tears went into creating this story. It is quite simply beautiful. It is not so much about life in a post-apocalyptic world but more about Griz, his dog, and the people and places he encounters. If you are an emotional person you might want to keep tissues at the ready throughout too.
Reviewer – Stacey
---
Purchase online from:
---
About the Author

Charlie's a screenwriter and a novelist and he lives on the edge of Edinburgh. He's been lots of other things too – temperamentally unsuitable bar staff (grumpy, not talkative), temporary laundry manager in a big London hotel, detail-shop car-wash jockey in Reno, Nevada, despatch runner for a film company in Soho, food critic (not a very good one, basically never met a meal he didn't like. Or at least eat too much of), national newspaper columnist (Scotland's a nation, right?) and a film editor at the BBC. He studied Literature at St Andrews University, and later took a grad degree in Screenwriting at USC.
He swims a lot, keeps thinking of taking up cycling, likes forgotten books, summers on the Outer Hebrides, terriers, his wife and his children – not necessarily in that order.



---
Did you enjoy the review for A Boy and his Dog at the End of the World? Please share your thoughts in the comment section below!
---
The above links are affiliate links. I receive a very small percentage from each item you purchase via these link, which is at no extra cost to you. If you are thinking about purchasing the book, please think about using one of the links. All money received goes back into the blog and helps to keep it running. Thank you.