A History of What Comes Next by Sylvain Neuvel – Book Review
A History of What Comes Next by Sylvain Neuvel – Book Review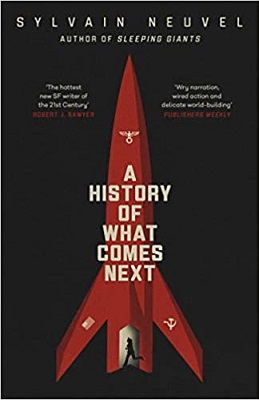 A History of What Comes Next
Take Them to the Stars Book One
Author – Sylvain Neuvel
Publisher – Michael Joseph
Pages – 304
Released – 4th March 2021
ISBN-13 – 978-0241445129
Format – ebook, paperback, hardcover, audio
Rating – 4 Stars
I received a free copy of this book.
This post contains affiliate links.


Synopsis
Germany, 1945.
Mia, a nineteen-year-old girl, is sent by the OSS to find Wernher von Braun: Germany's – and the world's – foremost rocket scientist. Her mission: stop the Russians getting hold of him.
But von Braun is suspicious. And so he should be.
For Mia is no ordinary girl. She only looks human. And helping the Allies win the Second World War is just one part of her plan . . .
Because there's an even darker conflict on Earth. A secret struggle thousands of years old. One that has taken generations of Mia's people.
But can the firing of rockets finally bring about its end?
Can Mia, as the last of her kind, bring the stars down to earth?
And if she succeeds, what will happen to us?
A History of What Comes Next is an unusual book in that it blends history with sci-fi, two genres that are often on the opposite scale to one another. It is also a hard book to recap without giving the plot away.
What I can tell you is that we first meet teenager Mia towards the end of WWII. She is in Germany needing to locate and persuade Rocket Scientist, von Braun, to follow her instructions and leave the base he is at and head with her to the safety of the Americans. Von Braun isn't sure about this new girl who is pretending to be his niece. Mia isn't any normal teenager though she is not purely human.
Mia and her mother are the ninety-ninth generation of Kibsu women. Kibsu Women are an ancient race of women, around 3,000 years old and they always contain a mother-daughter pairing of near-identical females who are more intelligent, stronger, and have special abilities. Their mission is to sway history and to help defeat evil.
They are however being chased by a race of men, Trackers, whose mission is to kill the women and wipe their race out.
The book is told in six acts and a conclusion. Most of the story is told from either Mia or her mother's point of view, though we do sometimes get to hear from the Trackers that are chasing them through time. There are also sections from back in time with previous Kibsu women.
I can't say the book was a particularly easy read but it was certainly entertaining. It was strange to read about the war from Germany's perspective and although Mia is trying to guide Von Braun and his team away from his base and into the safety of the Americans we still get to see and hear a lot of what was happening. Mia and her mother also travel through different countries and live in numerous places as they try to keep one step ahead of the evil coming for them.
If you are a lover of sci-fi novels then I think you will enjoy this book. Although it is set in history it didn't always feel like a historical novel. Though if you are a fan of history then there are lots of facts about the space race and WWII dotted throughout, plus there is factual information written at the back too.
The plot is action-packed, fast-paced, and engrossing. I enjoy spending my time with Mia and her mother Sarah as they are easily likeable. This is the first book in a planned trilogy with book two out next year. I'm hoping to keep up with the fight and find answers to the questions that Mia has about who the Kibsu women really are so book two is on my radar.
Purchase Online From:
---
What did you think of 'A History of What Comes Next'? Share your thoughts in the comment section below!
---
The above links are affiliate links. I receive a very small percentage from each item you purchase via these link, which is at no extra cost to you. If you are thinking about purchasing the book, please think about using one of the links. All money received goes back into the blog and helps to keep it running. Thank you.
Like us on Facebook – Tweet us on Twitter – Pin us on Pinterest – Join us on Instagram