The Skylight by Louise Candlish – Book Review
The Skylight by Louise Candlish – Book Review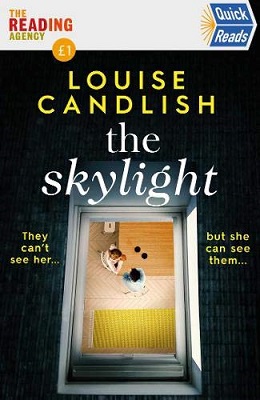 The Skylight
Author – Louise Candlish
Publisher – Simon & Schuster UK
Pages – 89
Released – 27th May 2021
ISBN-13 – 978-1471198410
Format – ebook, paperback, audio
Rating – 4 Stars
I received a free copy of this book.
This post contains affiliate links.


Synopsis
They can't see her, but she can see them…
Simone has a secret. She likes to stand at her bathroom window and spy on the couple downstairs through their kitchen skylight. She knows what they eat for breakfast and who they've got over for dinner. She knows what mood they're in before they even step out the door. There's nothing wrong with looking, is there?
Until one day Simone sees something through the skylight she is not expecting. Something that upsets her so much she begins to plot a terrible crime…
The Skylight is one of six books that have been released for First Reads 2021 to help those that are new to reading or struggle with reading to enjoy a great but short story.
It is a thriller set in a suburban street where Simone lives with her partner Jake on the top two floors of a shared building with the owners downstairs being Gus and Alina. Simone doesn't particularly like her neighbours which got worse when they had a kitchen extension built causing mess and noise for months on end with no apology.
However, the extension has given her one thing, a view into the couples life via their new skylight which has one-way glass, but the wrong way, so the couple can't see out of the window but Simone from her private bathroom, which Jake isn't allowed to use, can see in.
Simone takes great pleasure in watching the couple who are very private go about their day. Seeing what they eat etc, that is until one evening she witnesses something with triggers her and she sets a plan in motion to seek deadly revenge.
The Skylight was an exciting read and at only 89 pages I read it in one sitting. I loved the tension and the animosity between the neighbours. Simone believed that Alina thought she was a better person than her and would do anything to get one up on her. Alina knew Simone was up to something when her mail started going missing but the two grinned and smiled at one another in front of their partners.
It is the kind of book that felt very realistic, I mean how many people have issues with their neighbours, a lot, especially judging by the number of TV shows that are about neighbours not getting along and the lengths they go to, though I'm not sure many go as far as Simone!
There are bits of information drip-fed into the plot which show you that Simone might not be the nice, lovely person she tries to come across as and that she might have form for being vindictive, etc.
This was a fun, engaging, quick read and I hope those who do struggle to read give it a go, you just might find that you love it and want to read more of the author's work.
Purchase Online From:
---
What did you think of 'The Skylight'? Share your thoughts in the comment section below!
---
The above links are affiliate links. I receive a very small percentage from each item you purchase via these link, which is at no extra cost to you. If you are thinking about purchasing the book, please think about using one of the links. All money received goes back into the blog and helps to keep it running. Thank you.
Like us on Facebook – Tweet us on Twitter – Pin us on Pinterest – Join us on Instagram